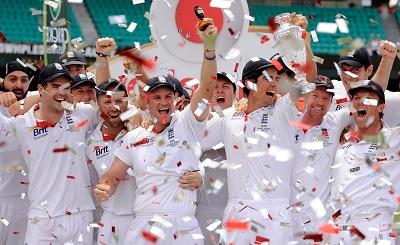 So, here we are again at the start of another Ashes series. Ignore the arguments about whether the gloss is being taken away from the Ashes because they're being played too often these days. The fact is we're playing, and as ever, it's going to be special - simply because England v Australia always is.
There's plenty to discuss around this series, with the new England coaching setup, the recent ODI performances, sledging and more besides. But since this is a predictions column I will try to stick to the point: who's going to win the Ashes this year?
The bookies have Australia as the favourites, obviously remembering the 5-0 thumping in the last series. That I can understand to a point, but at odds of just 2/5 for Australia to win the series? Either I am missing something huge, or that is way too short.
Yes they won the last one convincingly, but this is a home series, and the England home record is strong (only South Africa and Sri Lanka have won series in England since 2008). The conditions are completely different, and will suit England's bowlers far more. Let's not forget that England have won the last three home Ashes series, and the last one by a comfortable 3-0 margin. Should Australia really be 2/5 to win based on England's recent form?
Australia's form is probably the reason for these short odds. Their win in the West Indies was solid but expected, but it's the win in South Africa in 2014 that has probably caught the attention of the odds compilers. It was an impressive performance - not many teams go to South Africa and win. However it's worth noticing that sandwiched between the Windies and South Africa tours was a 2-0 loss to Pakistan in the UAE.
Australia are a good side, but they are not the all conquering machine they are made out to be. As Ben Stokes said, there is nothing to fear. Ausralia are only human. And in my opinion they are beatable.
For these reasons I cannot have Australia at 2/5 to win this series. I genuinely think it could go either way, which is why a bet on England to win would seem to offer the most value. In fact when you consider that the enhanced odds being offered at certain bookies mean you could back England at up to 10/1 this really is a no-brainer. If you want value for money, that's where you should be putting it.
This doesn't mean I am saying that England will definitely win this series, just that I don't see Australia as the favourites that the bookies make them out to be. And consequently England should not be considered as outsiders. If you can get 10/1 on an even money bet, you should be all over it.
In the top batsman markets, for England I would look no further than the in-form Joe Root. For Australia, Steve Smith is the man in form but Michael Clarke has the pedigree on English pitches and would be my choice.
For top bowler, you'd expect the punters to be all over Mitchell Johnson, but I can't see him adapting to the conditions here which don't favour his type of bowling. A certain Mr J Anderson would be a solid choice. I would have had an outside punt on Ryan Harris, but as he's just had to retire through injury, Mitchell Starc would now be my choice for Australia's best bowler.
So that's it - predictions done. Now it's time to do what I do best, sit back and enjoy what is sure to be a fantastic summer of test cricket. Enjoy it - I'm sure you will.