May 6th, 2009 by
TWC
in
Miscellaneous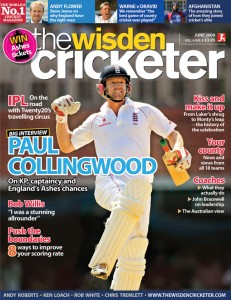 As the international summer in England gets off to its earliest ever start at Lord's, the June edition of The Wisden Cricketer is hitting the shelves at the same time it normally does to provide the perfect reading companion.
With a Twenty20 World Cup and plenty of ODIs alongside the Test series against West Indies and Australia, our June cover-star Paul Collingwood's warning for the future of Test cricket is a timely reminder of the pressures now facing the top players.
"My generation saw Test cricket and playing in the Ashes as the ultimate," he says. "That was my dream. I gave up the one-day captaincy because it was affecting my Test game and I wanted to keep my Test place. Maybe in the future today's young players will prioritise one-day and Twenty20. We have to be careful. If you can get 10 times the money for playing a few weeks of Twenty20 than for months of mental torture in the Ashes, then I'm afraid to say some people would take the first option.
"We have to make sure the pay and bonuses for Test cricket and Twenty20 are closer, otherwise players will concentrate on Twenty20 from an early age. If that's the way we want to go as a world sport, then fine, keep it as it is. If Test cricket is the ultimate, then we are going to have to do something about remuneration."
Also in the June issue, a look inside Lawrence Booth's two week IPL diary as he chases KP and Fred around the coastal cities of South Africa.
Tuesday April 21
God gets his own back as the IPL's luck with the weather finally runs out and an apocalyptic shower washes out any hope of play between Rajasthan and Mumbai. A colleague and I bump into Trevor Penney, the former Warwickshire batsman now helping out with Punjab, in a hotel bar, where crowds have gathered to watch Liverpool's 4-4 draw with Arsenal, and word spreads of a party on the first floor laid on by Shah Rukh. Scruffy British hacks are not top of the guest list (or indeed anywhere near the bottom) but it's amazing where a confident gait will get you. Inside, a flavour of the après-cricket that keeps these players happy: endless grog, top-class curry and a dance floor briefly appropriated by Chris Gayle, break-dancing like there's no tomorrow.
There's more, as Bob Willis rewrites history – "I was a stunning allrounder" – while Steve James thinks England have the right man in Andy Flower. To those who actually play the game, South Africa's new star JP Duminy tells you how to improve your scoring rate.
Plus, a focus on the amazing story of how Afghanistan joined the cricketing elite.
And, all the latest news from the counties as the County Championship gets underway.

In shops on Friday. Buy it, you might like it. Or subscribe here.

Posted in Miscellaneous |