June 25th, 2008 by
Rob Smyth
in
England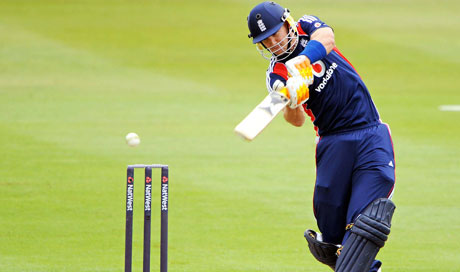 In recent times, centuries of established batting norms and mores have been smacked out of the park - not least the once fundamental one, that you block the good balls and hit the bad ones – and yet one minor custom is still slavishly adhered to: that your best player bats at No3.
England, you suspect, have been looking to get Kevin Pietersen up the order since they first set eyes on him, in the one-day team at least. At first a perceived fragility against the moving ball precluded promotion, but after riotous early success he was promoted to No4 halfway through the one-day leg of the 2005 Ashes.
At that point Pietersen was averaging 115.16 from his first 17 ODIs (with a strike-rate of 102.67); since then he averages 40.61 from 57 ODIs (strike-rate: 82.77). While the first statistic has an element of freakishness (the sample is much smaller, and Pietersen was riding such a wave that would probably have racked up runs batting at No11) but it nonetheless reinforces the perception that, as a one-day player certainly, and arguably as a Test player, Pietersen is more effective when he has freedom. That he needs less responsibility, not more.
Yet England have just moved to Pietersen to No3, the most important position in any one-day team. It all started well enough, with an unbeaten century at Durham, but more instructive were Pietersen's failures at Edgbaston and Bristol, when he was out in the eighth and fifth overs. England need Pietersen around in the last ten overs to wreak havoc, not out in the first ten.
As well as killing England's most effective death hitter, pushing Pietersen to No3 exposes an a middle order that, with the exception of Paul Collingwood, is seriously green. Being two-down early on in a one-dayer is damaging enough; being two-down when one of the men gone is Pietersen applies an asphyxiating pressure, as was shown by the light-headed shots played when England lost four wickets for two runs at Bristol. As Radiohead said, down is the new up. Pietersen should have moved from No4 all right, but to No5 rather than No3.
Rob Smyth is a freelance journalist. Rob is part of a group running 10 miles (which is 9.9 than he's ever run before) for the Laurie Engel Fund in London on August 31. To sponsor him, click here; to read why he's doing it, click here; or to join in the run, email Rob.
Posted in England | 1 Comment »