May 20th, 2009 by
Sam Collins
in
England
,
Interview
,
Test cricket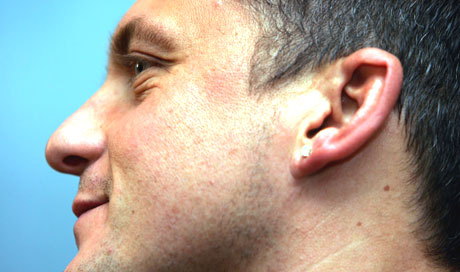 Darren Gough led England's attack for close to a decade. He took 229 wickets in 58 Tests and 235 in 159 ODIs and captained Yorkshire before his retirement in 2008. Since then he has appeared on the cult BBC show Hole in the Wall, while doing media work for Setanta and TalkSport. He was talking to Sam Collins
Were you faster than Fred Trueman?
Without a doubt. I think everyone gets faster as days go on. But, it's not all about pace. Fred Trueman was a tremendous bowler.

How did you teach yourself reverse swing?
By watching Wasim Akram and Waqar Younis and practising hard. I was still trying to master it at my peak, but you never do. You always think you've got it, but then the batsman learns a new technique to face it so you have to learn something else.
Is the Yorker underused in the modern game?
You have to be good to do it. There are three bowlers who use it a lot now – Dale Steyn, Brett Lee and Shoaib Akhtar – and they all take wickets with it. Flintoff doesn't do so badly with it either. He doesn't take so many wickets because he moves the ball in, and batsmen can get across their stumps to him. He's a quality bowler, and when he doesn't play England miss him big time, but the angle he bowls from he's going to find it very hard to take it away from the bat. Most of his wickets are bowled or LBW and there aren't many seaming away and caught at slip, apart from to left-handers. That's one thing in his game he could develop and if he could just learn to hold the ball up a bit, he'd be so much better. But he's not a natural bowler is he; we all consider him a batsman who bowls a bit.

Are conditions now too far in favour of the batsmen in international cricket?
I honestly believe that the pitches now are the same as when I played but there are not as many good bowlers around as in the past. There are lots more decent batsmen but if you are a good bowler in this day and age then you still take wickets. Take Dale Steyn, he keeps it simple, he runs in and bowls it as fast as he can and keeps the seam upright and he averages about 20 or something silly. If you are a good bowler you take wickets on any pitch.
Why are there so few top-quality bowlers around today?
No idea. I think it goes in spells, in another two or three years you might get a few youngsters coming on to the scene, there are so many of them, who become world-class performers. It can just happen, it might just be a bad year. Each team now has one good bowler. Australia have Mitchell Johnson, South Africa have Steyn, India have Zaheer Khan, so each country have one good bowler and not four like they used to.
Where is England's next strike bowler coming from?
I would like to think Steve Harmison still has a lot to offer England. He's had a disappointing time, but when he's confident and bowling well he's their best bowler after Flintoff. The one guy who's had potential but tended to spray it a bit is Saj Mahmood. I really hope he gets it right, because if he does he can be a handful.
Which country had the best opening bowling attack when you were playing?
South Africa. They had everything. Shaun Pollock had bounce, variation of pace, a good bouncer and a deceptive slower ball. Allan Donald was just a pure athlete, who had amazing speed, and could go on forever. A great performer.
Why has the North traditionally produced so many good quick bowlers?
The league pitches probably suit the bowlers better, although Headingley is now very, very flat. It cost us so many times last year. This year I think you'll find Yorkshire will try and produce result pitches, because it's the only way a side can win the Championship now. Yorkshire's problem in the last two years is that they didn't get enough results at Headingley, and teams that have won the County Championship have always got results at home.

Can England win the Ashes?
Absolutely. I think they'll do it. I can't see where Australia are going to get 20 wickets from.
Have England got it right with Andy Flower?
Of the candidates that went for the job, I'm pleased Andy Flower got it. All I'm concerned about is the discipline side. Andy is a great guy, I played with him at Essex, a very good coach, a great talker and I don't think that was going to be an issue. The issue is how he handles the big-time players, and those with strong personalities. If he can handle them, he will be the right man for the job, but I'd like to see him as a coach rather than a manager.
What are your memories of Duncan Fletcher's arrival as coach?
You didn't really see anything for the first four months. He just watched and observed, worked out the characters of the individuals and how to approach them. His approach worked for a long time.
Will you be doing another series of the BBC's Hole in the Wall?
I don't know. I think the first series went really well. It's one of those shows that, when you first watch it you think "what is this", how long can watching people fall in the water make me laugh for? But as you found it became more and more popular and they ended up having to repeat it. When I watched it I wasn't at my fittest, sometimes I squirm at it a bit but it was good fun. I'd have another go at it if I was asked, but I haven't heard anything.
Darren Gough is representing the MARS Balls Get Britain Playing 200,000 ball giveaway. As part of the campaign Darren will be playing against sporting greats Pat Cash, John Barnes and Austin Healey in the Bounce Off – a tournament where he'll captain a team that takes on these other legends in their respective sports. See www.marsballsgetbritainplaying.com for details on how to win a ball and get involved.
Sam Collins is website editor of thewisdencricketer.com
Posted in England, Interview, Test cricket | No Comments »