May 28th, 2009 by
Alan Tyers
in
Alan Tyers
,
England
,
Twenty20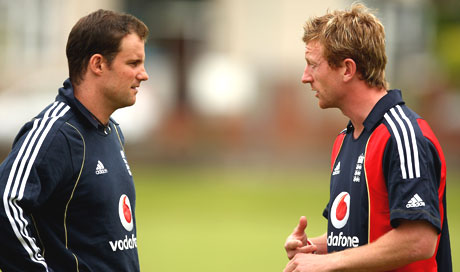 One of the key skills of leadership is delegation, as I remarked to Owais while he freshened up my G and T the other evening. Marvellous chap Owais, terribly keen, and he certainly used his spell as England Twelfthy to good use: there is no finer drink mixer on the county circuit.
"I think that West Indies series went rather well," I said, half to myself, forgetting that the merest hint of a suggestion of Test cricket can send the poor chap a little jittery. Shortly afterwards, as he was mopping up the broken glass and giving the old drinks tray a bit of a wipe down, I let him into my thinking.
"This Twenty20 World Cup beano that's coming up," I said. "Do you think it might be a good opportunity to give one of the chaps a turn in the spotlight? Let one of the other ranks enjoy a spell with the old pips on the shoulder?"
Owais became very excited, and dropped a box of really quite reasonable cigars in his agitation.
"Me Straussy? Skipper? Really?" he said.
Slightly awkward, wouldn't you say? I thought of what matron used to say before ripping off a plaster: grit the teeth and get it over with in one quick go, and then go and give your little ticket a rub to cheer yourself up.
"Not you, Owais, you clot," I said as kindly as I could. "One of the regular chaps. This World Twenty20 shindig has all the hallmarks of being an absolute ruddy disaster."
"It's true," said Owais. "Old Shaun Udal was saying that he thinks it's overkill, all the Twenty20, and he says that when he started out it was all timeless Tests and we were much happier in the old days and you could leave the dressing room door open."
"That may be the case," I said. "And more to the point, I'm pretty certain that England are going to get totally whacked by all and sundry. Let someone else get grilled by bloody Nasser for a change."
"Are you coming up with a plan, Boss?" said Owais. "Cos in the IPL we came up with clever plans all the time."
"Nobody's interested in your tales of the IPL, Owais," I said gently. "We all saw you sitting on the sidelines with the speckies and the fatsos and the kids with off-games notes. You hardly ever got picked. But you are right in this instance: I do indeed have a plan. Pass me the electronic telephone, there's a good chap."
I dialled.
"Colly! How are you old chap?" I said. "Now I hope I haven't torn you away from your whippets or your coal or whatnot."
I hadn't.
"Now then, Collly," I said. "How do you fancy a spell back in the England driving seat? The usual fee? Splendid. You'll be brilliant; and I'm absolutely sure we'll win. Ta-ta"
Owais looked expectant.
"Arrange for a crate of brown ale to be sent round to chez Colly, Owais, there's a chap," I said. "I think this summer is coming along splendidly."
By Alan Tyers
Posted in Alan Tyers, England, Twenty20 | 2 Comments »