November 2nd, 2009 by
JRod
in
Test cricket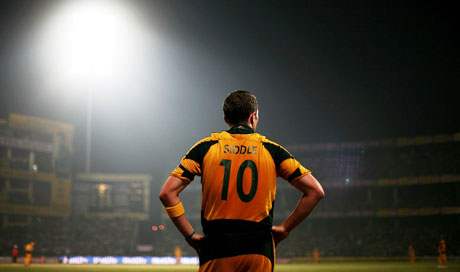 The cricket media and the fans seem to think there is too much cricket.  There is. Luke Wright said it right here and he doesn't even play Test cricket.
That might be the key. There may be too much cricket in general, but the form of the game that has managed to reach into three separate centuries certainly doesn't get over-played.
The last Test match finished on August 3oth, when New Zealand's top-order gave up and Iain O'Brien's valiant 12 off 77 balls couldn't stop Sri Lanka.  We are now in November, and the next Test match is on the 16th of this month.  Over 70 days without a Test match.
If you like the white ball there has been plenty of entertainment.  Australia have played two pointless seven match rubbers in India and England. There have been two tournaments using the word Champion.  And Zimbabwe have taken on Kenya and Bangladesh.
I started writing about cricket in September '07.  That month the Indian fans got into Twenty20 cricket when their national side won a tournament with what resembled a development side and changed the face of the modern game.  Since September '07 there have been two Twenty20 world thingies, two IPLs, one Champions League (with one cancelled), two ICL seasons, and a Stanford Super Ponzi scheme.
In that time there have been two five-Test series.  One was by accident when the WICB couldn't work out their run ups.  The other was the Ashes.  Five-Test series are now an archaic institution that not even the new rivalry of India and Australia can dig up.
Before the next scheduled five-Test series there will be another World Twenty20 thingy, one more IPL and Champions League.
The human cost can been seen on the face of Peter Siddle who has spent five months on tour. In that time he has had one week off; he and his partner visited Euro Disney (on a dare I assume).  His dance card features the World Twenty20 thingy, the Ashes, that seven-match series against England, the Champions Trophy, the Champions League and now another seven-match series against India.
His five months have given him five Test matches.   A similar length tour would have greeted him in the past, but he would have got the couple of boat rides that went with it.
This time his five months have meant three continents, representing two teams, playing three formats of cricket and having to line up at the Pirates of the Caribbean ride.
No wonder he has a permanent scowl on his face.
There might be too much cricket, but if a few of these pointless one-day and Twenty20 matches were culled to fit in more Test matches I wonder if we'd all still be saying it.
Jrod is an Australian blogger, and now author. His book The Year Of The Balls 2008: A Disrespective is available now
Posted in Test cricket | 6 Comments »