November 4th, 2009 by
Benj Moorehead
in
International
,
One-day cricket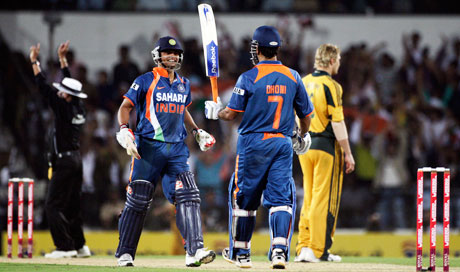 The ICC was hoping the Champions Trophy would come to the rescue of its troubled 50-over format, but they should look instead to the current one-day series being played in India. Australia and India are tied 2-2 in their seven-match series and the cricket has been absorbing.
At its best, one-day cricket offers a middle way between Tests and Twenty20s; there is enough time for ebb and flow and yet this is balanced by the tick-tocking of time pressure. There is a rich variety of pace to the cricket: runs dry up completely, they arrive in a torrent, and in between times they can be sought only from a trickling stream of opportunity.
It was fascinating to see on Saturday how the teams played on a wicket so sticky I could almost hear myself walking in the kitchen of my old student apartment every time a ball was bowled. The stickyness was a barrier to boundaries, and yet the bitty run-accumulation was consuming. Watching the strangulation of Virender Sehwag's instincts, for instance, was a curious, if painful, experience.
But the most dazzling display of this format's virtues was the shrewd innings of MS Dhoni when India batted first in the second match of this series. He joined Gautam Gambhir after three wickets had quickly fallen. For a long while these two tickled the ones and twos.
It was only at the end of the innings, after Dhoni had suddenly brutalised the Australian attack, that we became fully aware of the mastery of his patience, of his "nerveless nurdling through the graveyard shift" as one TWC blogger recently referred to the middle overs.
It was the classic middle-overs bluff that always tempts me. 'They're only getting three or four an over', I think, half-aware that I've been tricked like this before, 'surely they won't get enough'. An hour or so later there's a big total on the board and I flashback to those middle overs.
Dhoni had 78 runs from 87 balls until his onslaught, 124 from 107 after it. He had taken a cerebral approach: skilfully finding the gaps until the point when he was properly 'in', a state which produces the best ball-striking and one that is rarely afforded to a Twenty20 batsman. It was reminiscent – certainly in terms of the deft gap-finding – of Graham Thorpe or Michael Bevan, two wonderful players whose subtle skills were facilitated by the 50-over format.
To be clear: there has been nothing more exciting than seeing the ball fly off Sehwag's bat in the fourth ODI on Monday. But the strength of the one-day format is the changing phases it produces within a general context of urgency. Don't let's give up on it yet, please.
Benj Moorehead is editorial assistant of The Wisden Cricketer
Posted in International, One-day cricket | No Comments »