November 4th, 2009 by
Lawrence Booth
in
Test cricket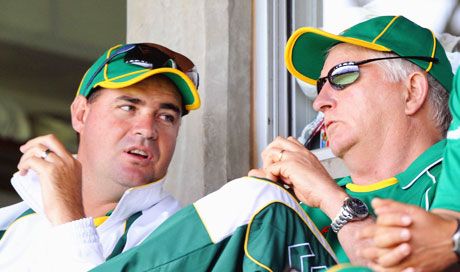 "We've got a chap called Tyson," said Len Hutton shortly after England arrived in Australia to defend the Ashes in 1954-55. "But you won't have heard of him because he's hardly ever played."
Forgive the nostalgia, but Hutton's piece of professional Yorkshireness came to mind last week as the runners and riders for the now-vacant New Zealand coaching job were discussed. Out went Andy Moles (the only English coach on the international circuit) and in came, well, who exactly? John Dyson? John Wright? Duncan Fletcher?
Dyson used to coach Sri Lanka and West Indies. Wright used to coach India. Fletcher used to coach England and is now a consultant with South Africa. And the relevance of all this to Hutton? Put it this way: it must be virtually impossible these days to keep an ace like Frank Tyson up your sleeve. Video analysis is one reason. But coaches who do the rounds - and why shouldn't they? - are surely another.
Mickey Arthur and Graeme Smith, South Africa's coach and captain, have already made the very reasonable point that they'd have been stupid not to use Fletcher's expertise ahead of England's visit. Andy Flower put a brave face on things by claiming he was "confident our batsmen can handle what's thrown at them". But with South Africa's back-room staff analysing Kevin Pietersen's flamingo shot to the nth degree and the razor-sharp Fletcher supplying all manner of technical and psychological insights, the phoney war has thus far been won by the home side.
Mysteries, quite simply, are harder to maintain in the modern age. Ajantha Mendis comes closest, but his every outing for Sri Lanka is now accompanied by a three-way split-screen picking the bones out of his off-break, doosra and top-spinner. And when Trevor Bayliss, the Australian currently coaching Sri Lanka, inevitably moves on to his next international posting, he will take his key to Mendis's box of tricks with him.
Is this constant recycling of coaches good for the game? Certainly, it allows national boards to be able to convince themselves they have appointed a safe pair of hands (and very occasionally, as in the case of Fletcher, landed a genuine coup). It may also help persuade the players they have not been landed with an ingenu – arguably one of the problems the New Zealanders had with Moles, whose previous coaching experience was limited to domestic cricket.
But doesn't a little bit of the magic disappear every time another member of the coaching merry-go-round hops off, pops on his new training top, and further dilutes the pool of knowledge? If, like Fletcher, you bring added value, then fair enough. But is this really the best way to keep cricket fresh?
Flower claimed last week there were some "superb" coaches around in England, citing the example of a recent session given by Graham Gooch. And it's true that the likes of Mark Robinson at Sussex and Mick Newell at Nottinghamshire deserve all the praise they get. But the last two Englishmen to coach at international level – Moles and Peter Moores – both ended up as victims of player-power. New boys are not always made to feel welcome.
The game may come to regret this, although the reality is cricket may be stuck with its coaching dramatis personae for a while. Fine. But don't expect too many gags like Hutton's.
Lawrence Booth writes on cricket for the Daily Mail, and you can sign up for their new newsletter the Top Spin here. His fourth book, What Are The Butchers For? And Other Splendid Cricket Quotations, is out now, published by A&C Black
Posted in Test cricket | No Comments »