November 4th, 2009 by
Sam Collins
in
Test cricket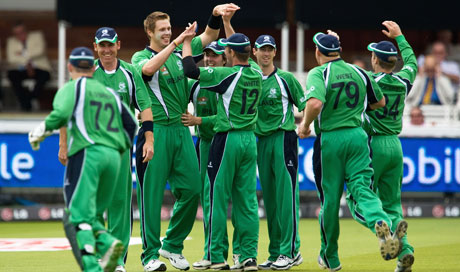 So Ireland are seeking Full Member status within the ICC, which is slightly like Danny Dyer applying to join MI5.
Ireland's struggles to keep hold of their best players are well-documented. Currently the strongest Associate Member by a distance, they are entitled to temporary ODI status but denied the chance to play Test cricket. Applying to join the 10 Full Members is a long, tricky and intensely political process but it could take them there. What would await them in terms of evenly-matched competition is another matter.
While Warren Deutrom, Cricket Ireland's chief executive, was non-committal about whether the country aspired to play at Test level, he claimed the extra funding afforded to Full Members would give Ireland a better chance of retaining their best players.
"Even if it's obviously too late for the likes of Eoin Morgan and Ed Joyce, what we're saying to the next rung of Irish players coming through is: we are ambitious, we are interested in going for Full Membership but it may take some time, and we are doing our very best to put in a contract system that allows you to consider playing cricket as a career in Ireland in the same way as you might want to play cricket for England and to complement your county career."
Deutrom and Cricket Ireland are in a tricky position. To expect the country to compete at Test level with no domestic first-class system, minimal sponsorship and funding, and a relatively small pool of talent without much growth potential is plainly unrealistic. Yet if they don't take this step, as Deutrom says, they must resign themselves to losing the most gifted players that come through the system.
Comparing Ireland's potential ascension to Test status to the two most recent nations – Bangladesh and Sri Lanka – is unrealistic. Put into numbers, Sri Lanka have a population of roughly 20 million. Bangladesh's frightening potential comes from a fervent base of over 153 million people. Ireland have just six million to choose from, most of whom have more of an inclination towards Gaelic football, hurling, soccer or rugby. It's more than New Zealand, who at least have a first-class system, but half that of the next smallest nation Zimbabwe.
At best they could aspire to be a Test minnow, and although it took Sri Lanka and is taking Bangladesh a while to compete at the top level, their history, resources and the size and passion of their populations marked them out as countries who had the potential to become quality opposition.
Sri Lanka have fulfilled that promise, and Bangladesh can be encouraged that it was not until they won the World Cup in 1996, some 15 years after they were granted Test status in 1981, that the cricketing world began to take them seriously. As recently as 1998 England would only grant them one Test.
Even if Ireland's staunchest supporters believe the current team may be in a better position to compete in the immediate term than Bangladesh, the improvement shown by the Bangladeshis, who recently won their first Test series eight years after achieving Full Member status in 2001, albeit against a weakened West Indies, suggests it would not be the case for long.
A two-tier Test championship is one possible solution, but given the likely scenario of constant defeat, is it any more likely that Ireland's best players would eschew the chance to qualify for England? And what would the future hold for Ireland if the ICC were to reject their application?
Add in worries over TV rights, the political power struggle in the ICC and Boyd Rankin's recent selection in the England performance squad and, despite a consistently high standard of performance in recent years, the future for Irish cricket is increasingly unclear.
Sam Collins is website editor of thewisdencricketer.com
Posted in Test cricket | 7 Comments »