November 9th, 2009 by
Daniel Brigham
in
England
,
International
,
Test cricket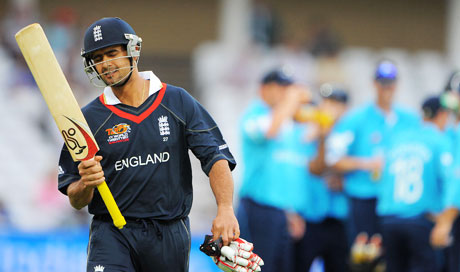 England's line-ups for the two warm-up matches in South Africa made me feel like Kevin's parents in Home Alone. There was something missing, something left behind. But what? Did I turn off the coffee? Yes. Did I lock up? Yes. Did I close the garage? Yes. Hmm. Was it Ronnie Irani? No.
It was the rarest of rare thoughts that brought the answer. An England ODI batting line-up looking reliable. You knew exactly what to expect from each batsman; you also had faith in them to deliver. Then it hit. The reason for that reliability was Owais Shah. Or rather his absence.
At the time of him being dropped, on the back of a sensational 98 in the Champions Trophy against South Africa, it felt like a bizarre, bonkers decision. I was on the verge of writing a blog ranting against the England selectors for leaving out someone with his talents, but Rob Smyth got there first. His gist was that the England management have wasted a unique talent and failed to show him enough love.
Shah is a unique talent, but it isn't a lack of love that has curtailed his career. Like a band who write one or two catchy, popular singles but stuff their albums full of 10 other rubbish songs, that eye-catching, six-powered 98 hid the real Shah: a man who runs like he's trying to leg it across a busy motorway, fields like a dog chasing a ball you've only pretended to throw and makes scores that won't win matches.
Suddenly, the selectors' decision looks utterly sensible and logical – surely the influence of Andy Flower and Andrew Strauss.
Jonathan Trott instead of Shah? Looks made for international cricket and is the complete antithesis to Shah at the crease. So yes, that makes sense. Alastair Cook instead of Shah? Surely not! But they do have the same ODI and domestic one-day averages and Cook is seven years younger. So, yes, that makes sense as well. Joe Denly for Owais Shah? Denly is young with huge potential, looks unfazed while batting and appears to be a very good fielder. Again, that makes sense.
Shah may feel aggrieved and people may blame the England management for not looking after him properly, but try telling that to the likes of Pietersen, Trott and Strauss. They've never relied on other people looking after them. Why should they? They've just gone out and looked after themselves, scoring lots of runs along the way.
Daniel Brigham is assistant editor of The Wisden Cricketer
Posted in England, International, Test cricket | 7 Comments »