November 9th, 2009 by
Jrod
in
One-day cricket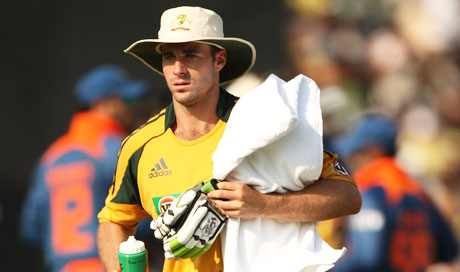 Australian selection policies seemed to stop making any sense a while back.  Perhaps around the time Andrew Hilditch started referring to the selectors as the NSP (National Selection Panel – it is not the Nordic Surf Project).  It isn't that they actually stopped making sense, it just seems their policy of picking guys around 30-years-old who are solid characters with solid records seems to have disappeared.  They now want to get as much fresh meat into their side as they can.
David Warner was picked before he had even played a first-class game. Jon Holland, the 22-year-old left-arm spinner, was selected for a tour after six first-class games.
The limited-over formats now get used as a place to throw virtual unknowns into the side, like some sort of petri dish for youthful Australian cricketers. With nine players getting injured before or during the Indian trip they have had plenty of chance for experimentation.
Burt Cockley is the latest selection to get even Australian fans searching Cricinfo.  Cockley had played four games of List A cricket for New South Wales when he was selected, his economy rate was 6.76 an over and four of his five career wickets came in his last game.  People seem to regard his selection as proof of either New South Wales bias, a radical new youth policy, or a selection that no one would worry about if he got injured.  All could be true.  Burt does get injured a lot.
The key recent selection has been that of heir apparent allrounder Moises Constantino Henriques.  Born in Portugal, he has chosen to play for Australia.  Moises has been talked-up since he was a schoolboy; young allrounders are a fetish item in Australia.  The problem is that Moises hasn't shown any sign of living up to his massive potential, he is as good at 22 as he was at 19.
For the Kolkata Knight Riders he was beyond awful, even by Kolkata Knight Rider standards.  In the Champions League he lifted his batting average in Twenty20 to 16 with some huge hits and a 50*, but his bowling was a big reason Kieron Pollard is in discussions about million dollar contracts.  Pollard may one day be able to afford to have Moises stuffed and put up on his wall.
This isn't the first time the Australian selectors have tried blooding young players in this manner.  Warne, McGrath, Healy, and Steve Waugh all made their debuts without really doing much in Shield cricket.  In those days the guys were often sent straight into Test cricket, at least most of these guys get a gentler debut.
Jon, Burt or Moises may never get close to the achievements of the big names, but it shows you how Andrew Hilditch's NSP is planning on rebuilding Australia with a re-hashed policy of success.  At least this time they picked some more interesting names.
Jrod is an Australian blogger, and now author. His book The Year Of The Balls 2008: A Disrespective is available now
Posted in One-day cricket | 3 Comments »