November 12th, 2009 by
Daniel Brigham
in
England
,
International
,
South Africa
,
Test cricket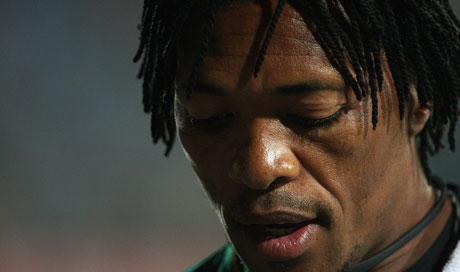 In the latest issue of TWC, Matthew Hoggard tells us what England should expect in South Africa.
He makes many key points to where the series will be won and lost. One of his worries is that Alastair Cook might struggle against Makhaya Ntini, who is excellent at slanting the ball across left-handers from very wide. Ntini may well get some joy against Cook (who doesn't?), but it's hard to see him having much of a real impact in the series.
There are few bowlers as underrated as Ntini – his 388 Test wickets puts him 11th on the all-time wicket-taking list between Curtly Ambrose Ian Botham. He should be considered a great. Yet his threat has diminished in the last couple of years due to Hoggy Syndrome (not obsessive dog-walking, but losing a few yards of pace).
A quick poll in the office to find out how old people think he is was revealing. No one guessed as low as the answer: 32. It's at that age that fast bowlers can suddenly lose their bite; that people think he's older than that suggests the decline started a little while back.
His results in the last five Test series have been OK – 10, 14, 11, 9 and 10 wickets – but not series-winning or defining. In his last 20 Tests, dating back to December 2007, Ntini has picked up just one five-wicket haul and four wickets on three occasions – twice against Bangladesh. In his previous 79 Tests he'd taken 17 five-fors.
This isn't to say he's become a bad bowler – he is still very canny – but it does show a decline in his wicket-taking ability. Gone are the days when he could destroy a batting line-up.
South Africa appear to be aware of this, dropping him from the ODI squad for the upcoming series against England, after just 12 wickets in his last 10 games. While it could be a move to prolong his Test career, it also gives fast bowlers Wayne Parnell and Lonwabo Tsotsobe an opportunity to showcase their potential ahead of the Test series, as the South African attack isn't shaping up to be as awesome as it threatened to be when they toured England two summers ago.
Dale Steyn is the best quick bowler in the world, but Morne Morkel shows signs of suffering from Harmy Syndrome (not pining after the north-east of England, but losing his radar far too frequently) and Jacques Kallis, despite committing more effort to his bowling in the last couple of years, will never win matches with his bowling.
Looks like it could be a high-scoring series …
Daniel Brigham is assistant editor of The Wisden Cricketer
Posted in England, International, South Africa, Test cricket | 1 Comment »