November 13th, 2009 by
Sam Collins
in
England
,
South Africa
,
Twenty20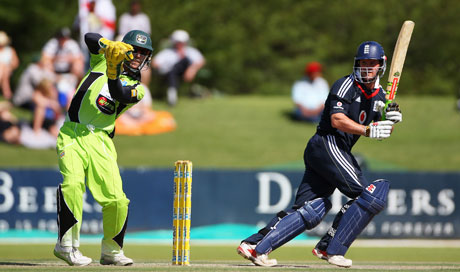 Graeme Smith summed it up, "He is a leader who is trying to stamp his authority on the environment so it is interesting why he has decided to take a week off."
Andrew Strauss should be leading England into the Twenty20 matches against South Africa that start today. Instead, after a successful first fortnight in South Africa under Strauss, Paul Collingwood is back in charge. The same Paul Collingwood who proved himself a horrible one-day captain for England and plumbed further depths in the World Twenty20 last summer.
Collingwood is only doing the job out of a sense of duty to England. He has gone on record as saying the added responsibility affects his batting. Strauss has claimed that he doesn't believe himself to be among England's best batsmen in the format, but neither is Collingwood when saddled with the captaincy.
Aside from the authority and direction his leadership gives the team, Strauss was practically England's only batsman against Australia in the Tests and ODIs this summer. In his absence England managed to bat for 17.3 overs in being bowled out for just 89 in their Twenty20 warm-up against South Africa 'A', as a tour that started so well temporarily unravelled. Strauss had scored a run-a-ball unbeaten 117 in his previous innings on tour. To suggest that his scoring rate and ability do not warrant a place in England's best T20 side is laughable.
Alastair Cook played in that T20 warm-up, a player who has previously been dropped from the ODI team for scoring too slowly. Cook has shown improved domestic limited-overs form, but his return to the England ODI and T20 fold is primarily so that he can lead the team across all formats in Bangladesh, appears to be part of a plan to bring the teams for the three formats closer together. So why one plan for Strauss and another for the rest of the team? And if Cook is to play in the T20, why is he not captain instead of Collingwood?
Australia rested Ricky Ponting for their T20s against England in September, but there were crucial differences. In Michael Clarke they have a natural successor to Ponting, who would be gaining valuable leadership experience in contrast to Collingwood. Secondly, Ponting's rest period came at the end of a draining Ashes series following on from the Twenty20 World Cup, with Australia still having to travel to South Africa and India for a Champions Trophy and one-day series.
With the T20s sandwiched between ODI warm-ups and the ODIs, it is maximum disruption for minimal allround gain. Any rationale that missing three T20 games keeps Strauss's mind fresh is ridiculous two weeks into a tour – that is what his planned rest in Bangladesh is for. Momentum at the start of an away tour is vital, and in not recognising his team's need for his leadership at this crucial stage Strauss has made his first major mistake as England captain.

Sam Collins is website editor of thewisdencricketer.com
Posted in England, South Africa, Twenty20 | 2 Comments »