November 16th, 2009 by
Benj Moorehead
in
Interview
,
Twenty20
,
west indies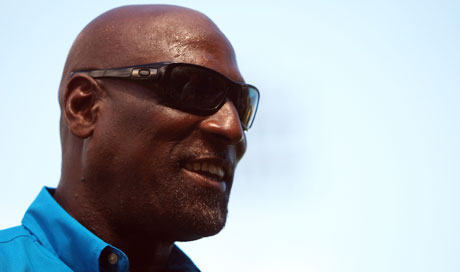 The word is that Vivian Richards has softened. He even told The Wisden Cricketer last year: "I look forward to peace and a tranquil way of life. I am more chilled than when I played."
Who are you kidding Viv? I went to meet him last week to look back over his career for a forthcoming feature in TWC and there was a glint in his eye with each memory he recalled. By the end of it he was cursing the fact that his career had been and gone before the onset of Twenty20.
For someone who missed his career, talking to Viv was a chance to prise into the attitude that dominated an era of cricket before I had switched on. Heaven knows how many times he has had to recount his career. He might have thrown up a straight bat to my questions, like he did with conscious irony to many a bowler. Instead he threw his weight behind his answers with the sort of full-blooded gusto he was known for.
We were alone in a hotel restaurant. As Viv would talk of a moment or period in his cricketing days his eyes wandered around the room as he remembered a certain scene, but when he hit on the point his eyes would fasten on to my own and his judgment would come down like a sledgehammer.
Glancing out the nearby window, he recalled the criticism he received for not playing correctly in the 'V' and hitting across his front leg instead. Then Viv looks at me. Is he smiling or snarling? "I could have hit the ball as well as anyone through the offside. I know that. It was just my choice when and when not to."
He talked about bowlers who danced around him when they'd got his wicket. Viv's eyes fix on me again, and his teeth are showing ever so slightly. "I enjoyed that because I said, 'Have your moment. It takes a couple of minutes for me to walk off. But when I'm batting again you are going to see my face for a long time. And it's going to hurt. Big time.'"
Even in the loneliness of an empty hotel restaurant so far removed from the raucous occasions when he was batting, Viv had given me something of what bowlers in the 1970s and 80s were up against.
And like the man himself I was wishing Viv was playing in the IPL today, if only to see how his unhurried swagger to the crease would be compromised by today's strict timeout rulings.
Benj Moorehead is editorial assistant of The Wisden Cricketer
Posted in Interview, Twenty20, west indies | 2 Comments »