November 24th, 2009 by
TWC
in
Club cricket
,
Miscellaneous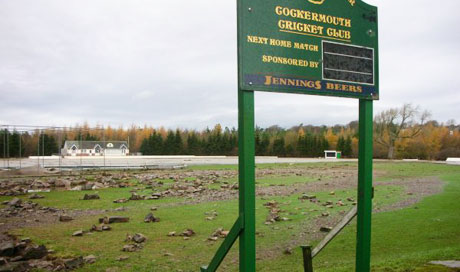 Over the weekend, TWC received the following email from Hugh Gimber, vice-captain of Cockermouth Cricket Club, whose ground has been badly damaged by the floods that have attacked the north of England over the last week.
Dear Sirs,
My name is Hugh Gimber and I am currently vice-captain of Cockermouth C.C. 1st XI in Cumbria. As I am sure you have seen on the news this week, Cockermouth has been destroyed by flooding, and unfortunately our club has not escaped the damage. Following an extensive refurbishment of the pavilion and practice facilities last winter, the ground is now underwater. The River Cocker which flows extremely close to the ground has burst its banks and is now running fast across the playing area, walls have been destroyed and our practice nets have been ruined. We have been unable to get in to the pavilion to assess the scale of the damage however we are almost certain that water will have got in, and that our ground equipment will have been sat in several feet of standing water since Thursday.
Local help will quite rightly go to homes and businesses first, but our cricket club now face the difficult and expensive task of repairing the damage over the winter. We would like to appeal for help in your magazine, whether it be through donations, labour, materials or anything else that people feel may be of help.
Thank you in advance for any help that you might be able to provide.
Yours faithfully,
Hugh Gimber
Anyone who feels they may be able to help Cockermouth CC in some capacity is gratefully asked to contact:
George Todhunter
01900 822565 home
01900 821212 business
07825545777 mobile
[email protected]
Posted in Club cricket, Miscellaneous | 1 Comment »