November 3rd, 2008 by
JRod
in
England
,
Stanford Twenty20
,
Twenty20
and tagged
cricket
,
cricket with balls
,
England
,
Jrod
,
sir allen stanford
,
stanford
,
the wisden cricketer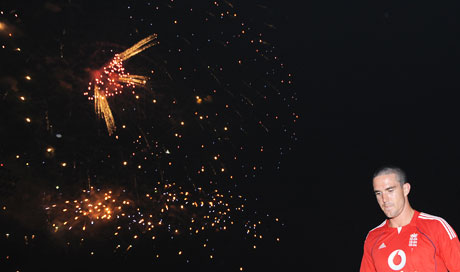 The Proper British result was achieved in the Caribbean.
There is simply no bad news out of the Antigua demolition on Saturday.
Poor cricketers got money. No WAGs were harmed.
The English team learnt to think about cricket and playing on low slow wickets.
The ECB gets 12 months to think about whether they really want to be the Bearded Lady in Stanford's freak show.
And most importantly English fans get to take the piss. No one likes losing more than an English cricket fan. This match even more so.
How often can you say: "Jeez we is crap, we can't even beat some Yank's Real Estate XI"? This week you English fans can.
And it gets better. By losing, you are reigniting the Calypso Cricket flame that has been out since Richie Richardson put on his helmet.
But wait, there is more, you are also snubbing your hoity-toity noses at the global whoring of cricket.
When England lost is was like a slap in the face to money, or in Prior or KP's case, they turned their back on it.
So this is a win, win, win, win, win, win and win, situation.
It even made me happy, KP's little chat with Nasser after the game was worth 20 million of someone else's dollars.
That makes it a win, win, win, win, win, win, win, and win, situation.
With a success rate like this, it should be held once a week.
Jrod is an Australian cricket blogger, his site Cricketwithballs.com won July's Best of Blogs in TWC
Posted in England, Stanford Twenty20, Twenty20 | 3 Comments »