November 19th, 2008 by
Lawrence Booth
in
England
,
England in India
,
One-day cricket
and tagged
cricket
,
England
,
india
,
lawrence booth
,
matt prior
,
the wisden cricketer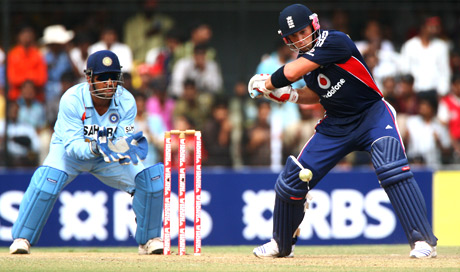 It's funny how quickly perceptions change in cricket, especially where the ever-fraught England team is concerned. Only a couple of months ago we were all saying that Matt Prior's return to the one-day side at the expense of Tim Ambrose was making a difference: runs at the one end of the order, a shorter tail at the other. Now, following his torturous innings of 38 off 64 balls at Indore on Monday, we are not so sure. Again. Roll your eyes if you will; just don't be surprised.
The reality is – and it was masked by a dismal effort from South Africa at the end of the summer – that Prior is more of a problem than anyone in the England camp cares to admit. And that problem appears to stem from the fact that his role is not entirely clear. If he has truly been given licence to pinch-hit – and thus act as the bludgeon to Ian Bell's rapier – then his strike-rate should be higher than the 74 he has managed from 29 one-day international innings (27 of them as opener). And if his strike-rate is as moderate as that, he should be averaging more than 23 with a single half-century.
Perhaps the most alarming stats are that, while Prior has been dismissed 13 times between 32 and 52, he has also been out for single figures on 11 occasions. In other words, he is doing half a job half the time; and often he is doing no job at all. Do England really think this is the basis for an assault on the World Cup in 2011, where consistently powerful top-order hitters have been de rigueur ever since the days of Kris Srikkanth? Prepare yourself for a fifth-successive World Cup fiasco from the boys in blue.
Prior must be removed from the firing line and hidden away at No. 7, where he will have more opportunities to take risks and hit out in the way he does so successfully for Sussex. But even in the lower-middle order there is a problem. I couldn't quite work out why his innings in Indore felt un-Prior-like until it occurred to me that he briefly faced India's spinners – a relatively novel experience for him because of his frailties against the new ball.
Some quick research revealed a weird stat: of the 849 balls Prior has faced in ODIs, only 70 of them have been sent down by spin bowlers. And his return of 40 runs for four times out – three of them to Harbhajan Singh (once when batting at No. 6) – does not inspire confidence. If Prior does drop down the order, it will be with a quiet prayer that Harbhajan, Yuvraj Singh or Virender Sehwag have an off-day.
You may think it's harsh to single him out when only Owais Shah and Andrew Flintoff out-scored him on Monday, and when he is clearly a better bet than Ambrose, who averaged two against New Zealand in the summer. But at the moment no one sums up more painfully England's age-old problems with the bat in one-day cricket: a lack of oomph in the early overs and an inability to manipulate the twirlers later on.
On a lesser-of-two-evils basis, Prior should drop down the order and allow a more innovative strokemaker, such as Ravi Bopara, to open with Bell instead. Hell, it's not as if England have got anything to lose, now, is it?
Lawrence Booth writes on cricket for the Guardian. His third book, Cricket, Lovely Cricket? An Addict's Guide to the World's Most Exasperating Game is out now published by Yellow Jersey
Posted in England, England in India, One-day cricket | 2 Comments »