March 18th, 2009 by
TWC
in
England
,
International
,
One-day cricket
and tagged
England
,
odi
,
summit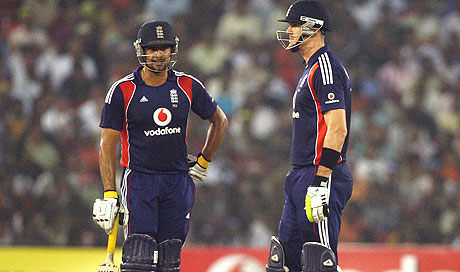 The one-day series against West Indies is almost upon us, but England, as usual, seem to have about as much clue how to approach the 50-over game as you or I. This week, the panel attempt to do Andrew Strauss's job for him – and then show their working.
John Stern
Editor of The Wisden Cricketer
Picking this side is like an episode of Silent Witness: ­ the evidence is either flimsy or unintelligible. At no point in the last decade (or beyond) have England had a dedicated focus on the one-day game, which is a legacy of our national preference for Test cricket (and related snobbery about ODIs) and the sheer volume of cricket played at domestic level that leads counties to prioritise competitions. Most focus on the four-day game and only one or two, like Gloucestershire in the past, major in one-dayers.
Strauss just isn't in the best one-day XI, however much one might wish it to be so and I've not gone for Shah, despite his many innovative qualities. His fielding is poor and so is his running between the wickets.
Bell
Bopara
Prior (wk)
Pietersen
Flintoff
Collingwood (c)
Broad
Mascarenhas
Swann
Harmison
Anderson
Edward Craig
Deputy editor of The Wisden Cricketer
I am going to ignore my inclination to pick my best Test side and expect them to be a world-beating one-day side because a) it just doesn't happen like that, I have to admit it, and b) good Test cricketers just don't necessarily make good one-day players – fact. A fact I don't like, have never liked, but fact.
So I'd start from scratch – ignore the Test team and get on with selection. In batting order:
Rob Key (c)
Ian Bell
Kevin Pietersen
Ravi Bopara
Paul Collingwood
Samit Patel
Matt Prior (wk)
Andrew Flintoff
Stuart Broad
Graeme Swann
James Anderson
Erm, not that different from the Test side then – and Shah is unfortunate. I think Bell is a good one-day opener with the right, aggressive partner. Key can do that. And I rated Patel's all-round usefulness – perhaps Dimi could do this bus-driver role equally well.
Daniel Brigham
Assistant editor of The Wisden Cricketer
The last time England were good at 50-over cricket, John Major was prime minister. Now they play like Major led the country: no flair, no presence, plenty of bad decisions, easy to mock and constantly expecting a beating.
A player and a competition highlight what's wrong with England's one-day thinking: Ali Brown and the Pro40. Brown was, until the last couple of seasons, the most consistently brilliant one-day English batsman for a decade and yet he played just 16 ODIs while Atherton and Hussain, with three centuries from 142 ODIs between them, were deemed better one-day players. Even Ronnie Irani was picked to bat at four. Then there's the Pro40, a maligned competition that fans and players enjoy but 10 overs short of replicating ODIs. What was the point of it?
The opening pair need to be able to hit over the top and score rapidly, so in come Rob Key and Vikram Solanki, two of the most overlooked batsmen of their generation. The middle-order of KP, Bopara, Shah and Collingwood is destructive, inventive and full of match-winners. Foster is the keeper because he has the best hands in the country – more important in ODIs than Tests, when the margins are smaller. The attack of Flintoff, Anderson, Broad and Swann has pace, guile and penetration.
Key (c)
Solanki
Pietersen
Bopara
Shah
Collingwood
Flintoff
Foster (wk)
Broad
Swann
Anderson
Benj Moorehead
Editorial assistant of The Wisden Cricketer
Strauss is currently in the team for the sake of avoiding split captaincy, but it seems it's a case of hiding him in the batting order – which is embarrassing. Drop him for Key, an astute tactician whose talent is deserving of a place. Prior opening (don't let him keep!) may not have worked before but he could be lethal against the new ball. Bopara can launch an all-out attack or play with canny pragmatism (both of which he is capable depending on the situation) in the middle-order.
A lack of a second spinner is a concern, so Patel and Panesar are kept very much in mind. As is Mark Ramprakash. He may expire under pressure in Tests but the one-dayers may be the right platform for a veteran who is still very fit, still scoring lots of runs in domestic one-day cricket, and still (of course) very, very talented. Still, wasn't brave enough to pick him, though, was I …
Key (c)
Prior
Shah
Pietersen
Collingwood
Bopara
Flintoff
Davies (wk)
Broad
Swann
Anderson
Richard Hobson
Deputy cricket correspondent of The Times
I have no problem with split captains, and certainly none with Kevin Pietersen taking charge. Two fresh, aggressive batsmen can build an opening partnership, with my experience in the side underpinning the middle order at five and six. Mascarenhas could become a really handy player with a bit of backing and the presence of Flintoff as a genuine all-rounder creates the space for somebody who chips in.
Denly
Davies (wk)
Pietersen (cap)
Shah
Flintoff
Collingwood
Bopara
Mascarenhas
Broad
Swann
Anderson
King Cricket
Miraculously, we still think the same as we did in August:
Mustard (wk)
Flintoff
Bell
Pietersen
Bopara
Shah
Collingwood
Mascarenhas
Swann
Broad
Anderson
Phil Mustard is the one man who's opened the batting for England who fundamentally gets the role. He plays some shots and doesn't much care about the consequences. He doesn't adopt this attitude, he just has it. It's a crucial difference.
Flintoff partners him because you need two shot-makers opening and if you can get a decent-length innings out of Flintoff, he can't help but score runs. Flintoff was one of about a million experimental England openers, but he plays with a straight bat and he's in the best XI, so we'd give him a longer shot.
Why not try and get the best out of England yourself, below?
Posted in England, International, One-day cricket | 13 Comments »