May 18th, 2009 by
King Cricket
in
Test cricket
,
Twenty20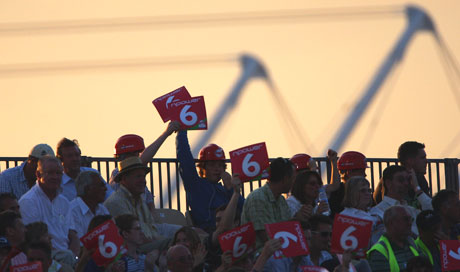 The attendance of these last two Tests coupled with Chris Gayle's comments last week seemingly welcoming a potential death of Test cricket have reawakened a media-led crisis of confidence about the longer format. 'Has Test cricket finally had its day?' asked the Guardian in an online poll. No, said 90.5% of those who responded, suggesting rigor mortis hasn't quite set in.
Dwindling Test attendances and the IPL seem to support the theory that supporters are moving towards the shorter format, but is it really so inevitable that this should continue?
Twenty20 seems to have legs, but it's still early days. The bare facts are that the most loyal Twenty20 convert has only been following the game for a handful of years. Does the format have enough going for it to hold people's interest for a long period of time or is its audience an ever-changing morass of those new to the game?
Test cricket has attracted people who have followed it for 60 years or more – these are no fair-weather fans. Test match cricket offers things that no other sport can, which is why it's lasted as long as it has - it fills a niche. The duration, the effects of weather, the way the match develops – these are attributes which remain and people who get hooked for these reasons can't go elsewhere, because to all intents and purposes there isn't an elsewhere.
One of Twenty20's biggest attributes is that it's easier to fit into busy, modern lives. That's a selling point, rather than a unique selling point, meaning it competes against football, rugby and the like. It may seem huge, but it's early days for Twenty20. The Twenty20 church is bigger and more eye-catching, but its foundations are less robust than Test cricket's.
There's also the fact that one or two Twenty20 followers might just find their way to the longer format. Those people will stay with Test cricket - we're sure of it. The loyalty of the Twenty20 fan is as yet untested.
See King Cricket's regular blog at www.kingcricket.co.uk. King Cricket is a cult figure in the world of cricket blogs and was TWC's first Best-of-blogs winner in April 2008.
Posted in Test cricket, Twenty20 |