May 22nd, 2009 by
Robin Martin-Jenkins
in
County cricket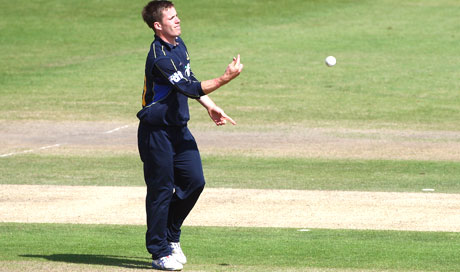 It can be difficult to be a 'son of'. I don't really count because my old man didn't play the game professionally but I understand some of the pressures that are being heaped on the shoulders of my young Sussex colleague Joe Gatting at the moment.
Not since Liam Botham began his cricket career at Hampshire have the media had such a field day. Sadly for them Joe is trim and athletic, resembling his father, who played 76 times for Arsenal and over 300 matches for Brighton and Hove Albion, much more than his uncle. No 'Fat Gatt' headlines for them this time then.
But those who remember Mike Gatting's batting style have commented on how similar it is to Joe's. Slightly hunched at the crease, Joe waits for the ball to come under his eye line before punching it away with strong forearms and economical use of the feet. He is particularly strong off the front foot and square of the wicket. I was watching footage of Mike Gatting batting during the famous 1986-87 Ashes series recently and it was like watching a slightly more rotund Joe.
Of course if Joe goes on to be half the player Mike was, then Sussex have unearthed a gem but I believe he has the talent – and certainly the temperament – to emulate his uncle.
Joe's calm disposition at the crease and in the dressing room marks him above many young players I have seen. Having played professional football for the last five years – he was taken on by Brighton and Hove Albion as a 17-year-old – he kept his cricket eye in playing Sussex League cricket. He has played far less than his contemporaries and yet despite, or perhaps because of, this he has a maturity and willingness to learn that is most impressive for a 21-year-old.
A recent net session at Hove saw bowlers dominate batsmen on a spicy surface with a swinging ball. I bowled my first couple of deliveries to Joe, the first of which swung out past his bat and the second of which swung back to take out his off stump as he shaped to leave the ball. But the notable thing was not that I managed to swing the ball both ways (extremely remarkable for me but also total fluke) but what happened next. Joe calmly asked for an off-stump guard before playing out the rest of the net serenely, leaving balls that swung away and presenting a broad straight bat to the deliveries that came back in to him. No one had told him to take an off-stump guard – he had worked it out for himself.
Last week in a one-day match against Yorkshire, Joe was tied down by some accurate fast bowling from Deon Kruis. He made 11 from 26 balls before being dismissed. Later I witnessed the coach, Mark Robinson, seek him out to offer some advice. He should perhaps try to use the crease some more to put the bowler off his rhythm. Even if it doesn't, it will make the bowler think twice and he could serve up a loose ball or two.
And then in the following game I watch the young Joe Gatting walk down the wicket to both Pedro Collins and Andre Nel, two international fast bowlers, and put them both off their line and length. He was going strong until he tried to sweep Chris Schofield and got a top edge. I'll wager he'll learn from that mistake too.
All too often I see immensely talented young players who believe themselves better than they are and who don't listen to advice. They inevitably do not train on. Perhaps it's too early to predict great things from the 'Nephew of' but I wouldn't bet against it.
Robin Martin-Jenkins is an allrounder with Sussex
Posted in County cricket | No Comments »