May 28th, 2009 by
Lawrence Booth
in
England
,
The Ashes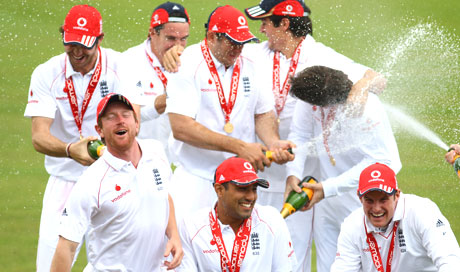 One down, one to go. West Indies have been beaten; now for Australia. But what have England learned in the first part of the summer, and what concerns remain? Here's a rough and ready stab…
Reasons for Poms to smile
England have learned how to win again. Not since 2000, home or away, have they had the better of opponents other than Zimbabwe and Bangladesh in both the Test and one-day series. Yes, West Indies were a dismal side dismally led. But England cannot be choosers. And it wasn't as if they snuck home either.
Jimmy Anderson and Stuart Broad could be a new-ball pairing to be reckoned with. Anderson has learned how to swing it both ways – at pace and with control. Broad has the best set of variations in the team and loves getting top batsmen out. They feed off and advise each other. And they have more bowling nous than either of their elders and supposed betters, Andrew Flintoff and Steve Harmison.
Ravi Bopara looks the part. It's not just the runs he has scored – it's his insouciance, a quality which will be crucial in winding the Aussies up. One word of caution: his one-day innings of 43 and 49 both ended with casual shots. The same thing used to happen to Rob Key. Bopara is better than that.
Graeme Swann has turned into that rarest of English breeds: a genuine spinner who doesn't weaken the tail. His potential against the left-handers is well-documented. But it's his line to the right-handers which is refreshingly unEnglish too: outside off and turning in, rather than middle and off and cramping up. And don't forget that Ricky Ponting doesn't like starting against spin…
The coach and the captain appear to have unearthed everyone's favourite document: a hymn sheet they can both sing off. Some wondered whether Andrew Strauss and Peter Moores were too similar, as if consistency of thought were a bad thing. But England craved stability after the Kevin Pietersen-Peter Moores debacle, and they seem to have found it.
Pietersen is due a few runs. This generally means only one thing.
Reasons for Poms to frown
Mitchell Johnson has quickly become the most dangerous bowler in the world. The steady platforms laid regularly by Strauss and Alastair Cook could be blown away if Johnson's new-found inswinger to the right-handers (outswinger to the lefties) continues to develop. And he can bat too.
Who will bat at No6? It should be Matt Prior, although ideally your keeper bats at No7, no matter how proficient he is in front of the stumps. But it could be Flintoff, who finally admitted in a TV interview recently that his persistent description of himself as a batsman who bowls is based on "pride". Better, on balance, to give Flintoff licence at No7.
We don't yet know whether Graham Onions will be exposed by better batsmen on less helpful pitches. Assuming Flintoff replaces Tim Bresnan and England resist the temptation to pick two spinners at least until later in the series, Onions will be the fourth seamer. That was Simon Jones's role four years ago…
As he himself pointed out, Ponting is yet to captain an Ashes-winning team in England. These Australians love their history, you know.
Lawrence Booth writes on cricket for the Guardian
Posted in England, The Ashes | 1 Comment »