September 1st, 2009 by
TWC
in
Miscellaneous
,
Test cricket
,
The Ashes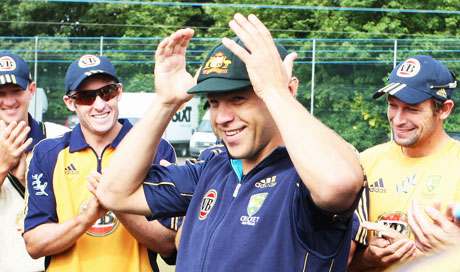 As you may already know, I adore cricket. As a new fan, I am continually amazed by this strikingly beautiful game and it's parallels to life. I see so much in cricket that is good, generous and noble, and I've come to believe that America needs cricket. Cricket could be the answer to many of her problems and a salve for her soul.
A simple act by Andrew Strauss at the Edgbaston Test got me thinking. His decision to allow Australia to replace an injured man at the last moment wasn't required but it was a decent and honourable thing to do. It was the thought of protecting the sport, respecting a historic rivalry and ensuring the spectators' experience that had a very competitive man do the right thing. If the American corporate culture were to follow suit, we might have escaped some of the economic turmoil the world has experienced in the past 18 months.
I don't want to give the impression that Strauss' action on that day was unique either. As any cricket watcher knows, these gestures are played out on a daily basis at every level around the world. Even in the midst of a heated rivalry behaving properly is the epitome of honour.  If ever there was a place to look for many of humanity's best qualities it is the cricket field.
Due to America's isolation from the true world sports, we've missed priceless lessons in tolerance, acceptance and learning from other nations. America has so many fine qualities but a few devastating blind spots as well. We are a nation of immigrants and many of us, or our ancestors, left homelands to seek greater financial opportunity in the States, or to escape hardship. It's one of the best things about the United States but America has somehow come to believe that given the choice everyone would want to live in our country.
I've learned that nothing could be further from the truth. I've met many people around the world that love visiting the States, and they find many wonderful things about our country but they don't want to move there. When you follow international sport on a regular basis, you learn how beloved other countries are to their citizens, and why. If you have the luxury of travelling to watch your country compete, you learn the history and culture of your opponent and you see the beauty of that country through its citizens' eyes. I've so enjoyed seeing cricket in different countries and meeting the people that love the sport and their country. Many Americans opinions of other countries would change if they had this opportunity.
I suppose the bigger question would be whether cricket needs America? America has the potential to bring millions of fans and massive revenue to the game, but what damage would it bring? The States has a unique style and personality that could enrich cricket but we must conform to the game's fiercely protected history and traditions. Finally, something that does not yield to America's wishes, does not think America's way is the best way and yet still accepts the exuberance and optimism of a great country. Dean Jones recently told me that the United States was "the final frontier" for cricket but there are considerable obstacles the game must clear before becoming a major force.
Yes, America needs cricket, if only to remind her of all the grand tenets she was founded on, like honour and respect for others, in all things; and to help her understand all that is great about the countries from where many of her citizens come.
DeeAnne White is the American girl at the cricket
Posted in Miscellaneous, Test cricket, The Ashes |