September 24th, 2009 by
Alan Tyers
in
Alan Tyers
,
One-day cricket
,
west indies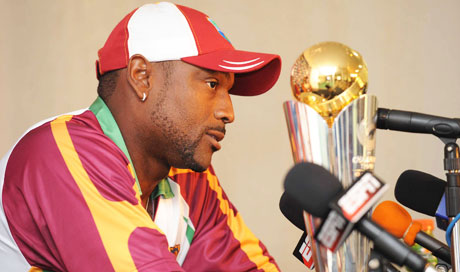 With Captain Floyd Reifer (that's R-E-I-F-E-R)
I thought we were a bit unlucky against Pakistan but we proved right from the start that we can compete at this level, when I called correctly at the toss. There was a bit of awkwardness before the match this morning when I said "hello" to the reserve umpire Billy Bowden and he tried to give me an autograph but once I explained who I was that all got cleared up. Afridi told me that Bowden apparently tries to give everyone his autograph so I didn't take it personally.
There's a lot of talent throughout this team. Young Gavin Tonge for instance, was playing club cricket in Basingstoke before he got the call-up. He's averaged 30 with the bat in the Home Counties League division two this year and I just think it's great that we managed to get him to commit his future to West Indies cricket, because I know that England were very keen to have a look at him for their own middle-order. If his footballing skills hadn't let him down, it could all have been a very different story.
It's great to have Tino Best, a man who has an immense amount of experience as a bowler, and as a glazier, to show some of the young lads how it's done. From storming out of West Indies cricket to sign up with the ICL, to walking out of the ICL to get back into the West Indies side, he's shown himself to be exactly the sort of militant contract rebel cricket in the region needs.
Some of the other players might be unfamiliar to some fans, and indeed some of them were unfamiliar to the selectors as well. Turns out Dale Richards isn't a relative of you-know-who, and Nikita Miller isn't actually "that woman who did so good in the ladies ODI team recently" as was stated at the selectorial meeting, but then the bigwigs have all got plenty on their plate what with trying to get their share of the mobile phone money, picking a new colour for the official blazer and choosing which member of the coaching team to fire next.
Of course, it would be great to have someone of Chris Gayle's stature here to pass on a few tips: what type of sunglasses to use in different situations, the best way to catch a quick nap in a press conference, investment advice etc, but we can only try our best and see if we can make a bit of a reputation for ourselves. Who knows, in a few years time, some of these lads here could be going on strike alongside some of the biggest names in West Indies cricket.

By Alan Tyers
Posted in Alan Tyers, One-day cricket, west indies | 1 Comment »