September 25th, 2009 by
Miles Jupp
in
County cricket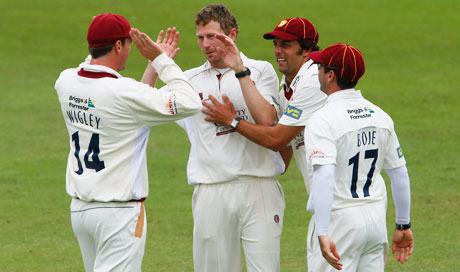 This week I was invited to watch some County Championship cricket at Northampton. It was the first cricket I'd seen since the last day of the Ashes, as I could not have been less enthused about the prospect of seven one-dayers against Australia - a position that I suspect I shared with many of the England squad.
Our broken national side have now been whisked away to the southern hemisphere to play three warm-down games, and have taken many of our cricket journalists with them. But there are still a few days of cricket that actually matters being played out on our home soil. Durham may have yomped off with the Division One Championship some time ago, but the battle for promotion from Division Two will go to the wire.
Kent – the only county captained by a friendly local butcher – have already made it up safely. But Northamptonshire and Essex are still vying for that vital second place that will see one of them become immediate relegation favourites in 2010.
Sky have opted to televise Essex's final Championship at Derby, although I'm not sure if this is because they felt that Essex are the more likely of the two to go up, or because when certain members of the Essex team are shown running in slow motion it enables them to pull in some extra viewers who might otherwise be watching David Attenborough re-runs.
It was on the television in the corner of the pavilion bar in Northampton yesterday, but I didn't find myself looking at it too often. I was too busy watching Northants giving Leicestershire a proper and glorious bashing.
The atmosphere was splendid too. County cricket, even if unable to rely on its gate receipts for serious funding, continues to draw something of a crowd and those that are there are usually passionate about their team.
Leicestershire have had a wretched and unhappy season, and they certainly show that on the field. Their collective shoulders drooped, and they fielded as if they had all decided to swap contact lenses for a laugh.
When Northamptonshire took the field, it was great to see a slow left-armer bowling with control, variation and verve. Sadly for England fans it was not Monty Panesar, who at present is nowhere to be seen. It was Nicky Boje, who took two for 14 from his 14 overs while Andrew Hall looked menacing at the other end. As in the England side, the South Africans are well represented.
I knew that I was happier watching a motivated domestic side playing cricket that actually mattered than I would be if I were at the Champions Trophy. It is now almost impossible to mention the words "international cricket", if the word "glut" doesn't also appear in the same sentence. There has been so much of it this year, it occurred to me yesterday, that I'd nearly forgotten that this is the year that England lost to Holland. And no one should be allowed to forget that.
Miles Jupp is an actor, comedian and cricket fan
Posted in County cricket | 1 Comment »