September 25th, 2009 by
telford vice
in
Test cricket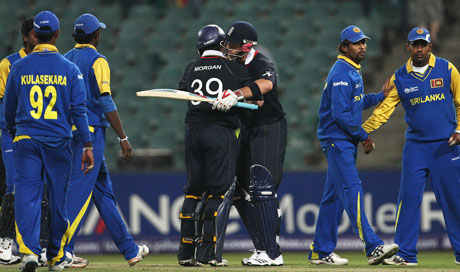 As much as the previously colonised among us enjoy seeing England beaten - this utterly objective reporter included - there is much to be taken from their victories.
The Three Lions were indeed rampant in their handsome win over Sri Lanka in the Champions Trophy in Johannesburg on Friday. England delivered a well-nigh flawless lesson in Cricket, How To Play.
Andrew Strauss recognised a greentop when he saw one, and sent the Sri Lankans in to bat. Sniping new-ball bowling by James Anderson and Graham Onions tamed one of the most dangerous top-orders in the game. Better than decent support from Stuart Broad and Paul Collingwood did the rest. Collingwood's best innings in yonks steadied the reply, and Owais Shah and Eoin Morgan refused to let the pressure build. Job done.
Of course, we won't dwell too long on the fact that this is a United Nations delegation masquerading as an England team. Perhaps that's why the rest of the world is so interested when they play – there's a little bit of all of us in the side.
Sri Lanka were somewhere out there, but they weren't in the game. And that after an ominous performance against the swaggering South Africans in the tournament opener.
So non-rated England stay alive. In fact, they're on top of the Group B standings going into Saturday's matches, albeit after playing just one game. Still, a week ago, that would have been about as likely as St.George falling off his horse.
Well done, England. It's as satisfying to see you win as it is watching someone else beat you. Well, almost.
Telford Vice is a freelance cricket writer in South Africa.
Posted in Test cricket | 2 Comments »