September 26th, 2009 by
telford vice
in
Test cricket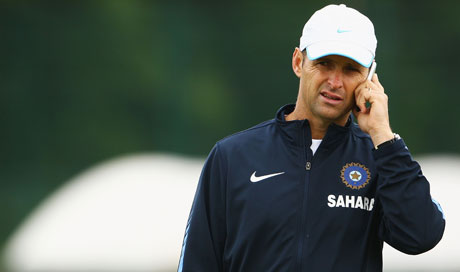 It's hard to see how the words "Gary Kirsten" might fit into the same sentence as "sex scandal".
Kirsten, once a yeoman opening batsman for South Africa, now India's coach, has the look and the bearing of a monk, and he tends to think like one.
But as sure as the game's finest one-day teams are tangling lustily in the 2009 ICC Champions Trophy, so Kirsten is warding off the flak that comes with being embroiled in a scandal over sex.
That such a man should find himself in such a wet spot of bother is astounding. That this torrid saga should befall a team like India sounds like the beginnings of a parody that might be entitled the Karma Krikit Sutra.
If Kirsten's version of this dirty little story is to be believed, he wasn't paying close enough attention to what Paddy Upton – India's conditioning expert, and another South African – chose to include in a motivational dossier that was handed to players.
Along with sections on India's methods and strategies for waging war through the ages and the cricketer's optimum diet, the document told players that having sex before games could enhance their performance on the field.
Quite what the Indian players' wives and girlfriends - or both – make of this theory has yet to be revealed to us.
Many Indians are, of course, having a good giggle at all this irrelevant fuss. But in a society that considers itself Conservative, with a capital C, the rumpus hasn't gone down well. No-one seems ready to swallow their national pride and refocus their energies on giving it to Pakistan in Centurion on Saturday.
A website, www.krishcricket.com, claimed that unspecified "Hindus" have demanded Kirsten's resignation for no less a crime than "attacking the moral fibre of the country".
The site quoted "Indian American leader Rajan Zed" as saying that "India's youth looked up to the cricket players as kind of role models. If the national cricket team indulged in undisciplined casual sex, it was a scary thought to imagine what the rest of the youth of the country would do."
Who knows which planet Zed is from, but he needs to know that here on the Earth (that moves) cricketers from all countries tend to have more undisciplined and/or disciplined casual sex than you could shake a fine leg at.
It was always thus, it is thus, it will always be thus. So keep your pants on, cricket lovers.
Telford Vice is a freelance cricket writer in South Africa.
Posted in Test cricket | No Comments »