September 30th, 2009 by
Lawrence Booth
in
England
,
One-day cricket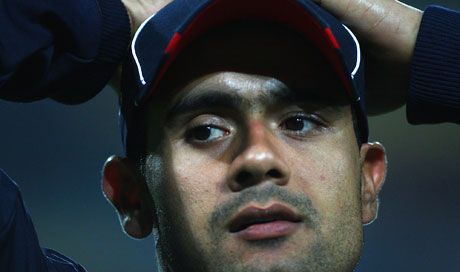 There was a moment last night when it looked as if England's chances of winning their first global one-day tournament were about to evaporate into the high-veldt night air. New Zealand – 84 without loss and 113 for one in pursuit of 147 – suddenly lurched to 140 for six. England could have won. They would have topped their group and headed into the semi-finals amid careless talk of impending triumph. It would have been a disaster.
The simple truth about the England cricket team is that it regards the "favourite" tag as the Labour Party once regarded Peter Mandelson. Perhaps it's the English default setting of not wanting to be the centre of attention. Perhaps it feels lonely at the top. Perhaps it's the moment the doubts creep in. Whatever the reason, England generally play their best cricket shortly after doing a passable impression of a village team with sore heads.
This almost congenital craving for underdog status was at its most perverse during the Ashes. England's two victories, at Lord's and The Oval, came after their two limpest performances, at Cardiff and Headingley. The Australians should have been familiar with the phenomenon. England won at Edgbaston in 2005 after being bested at Lord's, and they lifted the Commonwealth Bank Trophy in 2006-07 after losing the Ashes 5-0. But, sure enough, the Aussies got cocky, and England reverted to type. The rest is recent history.
The same process has underscored England's progress to the semi-finals of the Champions Trophy, a tournament it was said they could do without. Most sane observers reckoned their chances of qualifying from a group containing South Africa and Sri Lanka were in the slim-to-non-existent category, with slim heading for the exit.
Perfect. The pressure was off, especially after the NatWest Series had been surrendered 6-1. Their bowlers duly took advantage of some Derby-in-May conditions at the Wanderers to ambush Sri Lanka, before their batsmen played a collective blinder at Centurion – as if someone told them they were about to play their final innings, so just go out and have some fun.
Enter New Zealand. You could have written the script. England lose toss in conditions that have regressed to Derby-in-April. Andrew Strauss fails for about the second time in a year. And Owais Shah thinks he's Viv Richards. When Brendon McCullum smashed an IPL-style half-century, we were looking at one of the great routs. Stuart Broad almost fluffed his lines with four quick wickets, but a crisis has been averted. The excitement can now die down.
The problem with England's aversion to the spotlight, of course, is that it can make life pretty tricky when it comes to timing that run to the winner's enclosure. Sooner or later, people are going to notice your presence in, say, the final, at which point diversionary tactics are probably futile. England have reached four global finals in their time and lost the lot. Don't put your house on a change of tack over the next few days.
Lawrence Booth writes on cricket for the Daily Mail. His fourth book, What Are The Butchers For? And Other Splendid Cricket Quotations, is published next month by A&C Black.
Posted in England, One-day cricket | 2 Comments »