October 22nd, 2008 by
Lawrence Booth
in
Australia in India
,
Test cricket
and tagged
Australia
,
cricket
,
india
,
lawrence booth
,
ponting
,
the wisden cricketer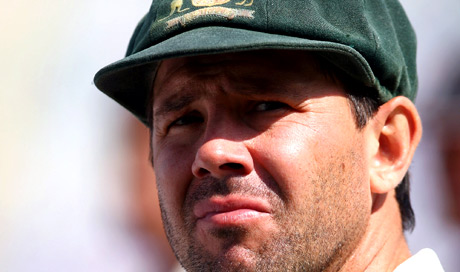 The thinking sports fan will always be stimulated by the thought of the end of an era. That moment – delicious for the usurper, devastating for the usurpee – is what, after all, defines top-level sport. And it is why there has been such a frisson surrounding the apparent decline and fall of Australia's cricketers. I'll keep my powder dry on this one for the time being (Australia have been written off before, most notably three years ago, and who in any case is the team to replace them?). But there is good reason to shoot from the hip on another matter. Stick 'em up, Ricky Ponting.
Before Australia lost to India at Mohali by 320 runs, Ponting had suffered only four defeats in 46 games as captain: two against England in 2005, and two against India, neither of them when the series could be lost. It was a record for the ages and Ponting must be very grateful to have had three players – Shane Warne, Glenn McGrath and Adam Gilchrist – who would grace an all-time World XI. Well, they're gone now, and Ponting's leadership skills are being dissected with a microscope and a small scalpel as a result. Events at Mohali suggested he has some serious work to do.
First, a brief trip down memory lane. The last time Ponting was under sustained pressure as a captain was during the 2005 Ashes. One senior player on that trip recently confided that the mood on tour was a weird one: from the moment Geraint Jones caught Mike Kasprowicz at Edgbaston, said the player, the Australians seemed resigned to defeat. If this is true, it is hardly a ringing endorsement of Ponting's ability to inspire, just as his tirade at Duncan Fletcher at Trent Bridge spoke volumes for his default position under stress.
If this sounds like the retrospective gloating of an English hack, then you only had to read the Australian media's treatment of Ponting's run-in with Brett Lee at Mohali to realise that there are genuine concerns over his man-management skills. For Jason Gillespie at Old Trafford (19 overs out of 113.2 overs in England's first innings, four out of 61.5 in the second), read Lee at Mohali on the fourth morning, when he was ignored completely.
It would be utterly fanciful to suggest that Lee's career will speed downhill as quickly as Gillespie's did, but Ponting's handling of a player who will be crucial to their chances of retaining the Ashes in 2009 was unsubtle at best and downright insulting at worst.
His lack of faith in Cameron White's legspin was instructive too. White bowled 27 overs in the match out of 194 and in India's second innings bowled as many (eight) as Mike Hussey, who was duly warned twice for running on the pitch. If Warne's mentor Terry Jenner has been crying out until he's blue in the face for more sympathetic treatment of the back-of-the-hand brethren, then Ponting may not have heard him.
A captain is only as good as the bowlers at his disposal, which is a truth Ponting may only just be discovering. But a good captain will also make the most of his resources and by gifting India's openers singles all round the ground on the third evening – a policy that allowed Virender Sehwag and Gautam Gambhir to put on 100 in 23 overs before stumps – Ponting got it badly wrong. With two days to go and facing a deficit of 201 before that innings even started, he was never going to be able to defend his way out of trouble.
There are two Tests in this series to go, which means Ponting could yet be celebrating a famous victory come November 10. But his struggles should at least cast those of England in Australia two years ago in a less critical light. Back then Fletcher was derided for pointing out that England were missing several key players. How would Australia cope without Warne and McGrath, he wondered. Unlikely though it seems after that Trent Bridge spat, but Ponting may now appreciate where he was coming from.
Lawrence Booth writes on cricket for the Guardian. His third book, Cricket, Lovely Cricket? An Addict's Guide to the World's Most Exasperating Game is out now published by Yellow Jersey
Posted in Australia in India, Test cricket | 7 Comments »