October 23rd, 2008 by
Miles Jupp
in
Stanford Twenty20
and tagged
cricket
,
middlesex
,
miles jupp
,
shaun udal
,
the wisden cricketer
,
twc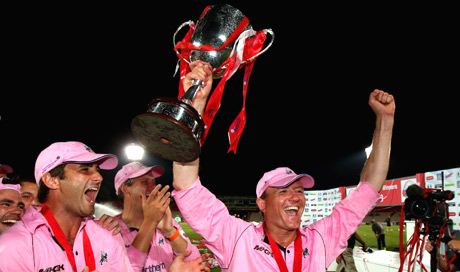 Back in September 2005, as the whole country basked in Ashes glory, Shaun Udal was a 36-year-old offspinner reflecting on a decent county career and a handful of one-day internationals a decade earlier. Two months later he was making his Test debut in Multan and spinning England to victory in Mumbai. Since then he has been discarded by his country, retired from his county and then signed a two-year deal with Middlesex. Next week he captains them in the Stanford Super Series.
Udal is not a typical sporting hero – he's more like a quiet, unassuming anti-hero in a Coen brothers' film – but recently I have found myself desperately willing him to succeed. Back in the 1990s his lank, messy hair earned him the nickname "Shaggy". He could not have known then that the nickname would outlast the hair, nor could he have guessed the odd path his career would follow – jamming in loads right at the end like a student mugging up before exams, or a late religious conversion before the final reckoning.
There's something about offspinners that inspires affection. Perhaps the apparent straightforwardness of their craft that makes us think that they're uncomplicated fellows. Offspinners seem somehow gentler than their wrist-bowling colleagues and it would be nice to think that they all possess the same playful chuckle as Vic Marks.
Two years ago I went to India to watch England's series there and after the Nagpur Test we shared a plane to Delhi with the teams. Shaun Udal was sitting across the aisle from me, a couple of rows in front looking somewhat detached from proceedings. Monty had just made his successful debut and Ian Blackwell had been picked as the second spinner. And while the younger, hair-gel-using players ate sweets and read Loaded, he sat quietly with his glasses on, reading a broadsheet like a man biding his time.
In Mumbai he was a joy. I watched that match in a crowd surrounded by Indian fans in the spicy atmosphere of the Wankhede stadium. When he came on to bowl on the fifth day an Indian group in front of me started chuckling as they ran through the names of English offspinners over the years who they felt merited derision. "And now this man", said one of them, "who is 37 and at the start of this game had a bowling average of 92."
9.2 overs of offspin later England had won, Udal had taken four wickets and his Test bowling average now stood at 43. I remember the moment of England's victory clearly: Munaf Patel swung a Udal delivery down to fine leg where Hoggard took a good catch above his head. As soon as he saw that it had been pouched, Udal took off in a celebratory sprint, wildly pumping a clenched fist above his head. For some reason, though, he set off in the direction of extra cover and it was only after some distance that he looked back and realised the rest of the team weren't following him but had all converged on (captain) Flintoff at midwicket. He smiled to himself and ran to join them – he may have had a star turn but he was still just a guest at Flintoff's party.
Perhaps in Antigua he will get a chance to lead the celebrations.
Miles Jupp is a comedian, actor and cricket fan
Posted in Stanford Twenty20 | No Comments »