November 5th, 2008 by
Lawrence Booth
in
Australia in India
,
Test cricket
and tagged
Australia
,
cricket
,
England
,
india
,
lawrence booth
,
Test cricket
,
the wisden cricketer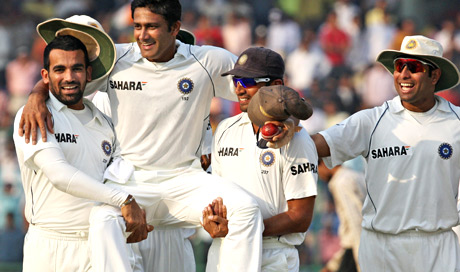 Most non-Australians agree, and – through gritted teeth – a few Aussies too, that we're on the verge of a New Era. Apologies for ignoring Sirallen and the Stanfords for a moment, but if Australia fail to beat India in the fourth Test starting at Nagpur tomorrow, we've been assured that the resultant regime change will make what's happening in the US look like small fry. Australia, goes the wisdom, will no longer be the best side in the world. An empire will crumble and the sun will set over Wagga Wagga forever.
Well hold on just one minute and cast your mind back 14 years to Australia's tectonic-plate-shifting win in the Caribbean. On that occasion, the demarcation of power lost and gained was crystal clear as the baton was handed smoothly from Richie Richardson's West Indians to Mark Taylor's Australians. Taylor and his successors have run with it ever since, give or take the odd stumble. But who will pick up the baton now if Australia drop it at Nagpur?
The conventional answer is India, mainly – you suspect – because they are the first team to benefit from life after Warne and MacGill. But they have just lost a leg-spinning legend of their own in Anil Kumble, and by Monday evening will be without Sourav Ganguly. How much longer will the 35-year-old Rahul Dravid (two half-centuries in 15 Test innings) last? And what about the 35-year-old Sachin Tendulkar, especially now that Brian Lara's record has gone? VVS Laxman is 34. Yes, the bowling can be devastating, but India may soon need to unearth an entirely new middle order. Momentum could be tricky.
South Africa have been touted too thanks to their 2-1 win in England, but do they have the mentality to last the cause? It seemed rude to point it out at the time, but Graeme Smith was out at least once to Monty Panesar during his series-winning epic at Edgbaston: had the umpires agreed, England might have won the series instead and the chokers rosette would have been gleefully slapped on Smith's lapel once more.
It may also be rude to point out that South Africa have just as big a mental block against the Australians as the English did before and after 2005. Since Hansie Cronje's demise, Australia have a 10-1 Test-match advantage against the South Africans. The six Tests the sides play against each other home and away in the coming months may merely serve to reinforce an old failing, especially if Dale Steyn isn't fit.
England? Pull the other one. Let's see if they can avoid a 2-0 defeat in India first. Pakistan, because of circumstances beyond their control, appear not to play Test cricket these days; New Zealand have just struggled to beat Bangladesh; West Indies need not apply.
Which leaves us with perhaps the most credible alternative: Sri Lanka. Their nucleus of top players may be small, but it is unrivalled in its quality: Kumar Sangakkara and Mahela Jayawardene score most of their runs; Muttiah Muralitharan and Ajantha Mendis take most of their wickets. So what a shame it is that Sri Lanka's next scheduled Test match was May in England, a tour that will almost certainly not now take place.
Yes, if Australia do drop the baton in Nagpur, the sad truth is they may just be able to pick it straight up again. World champions by default – it's not exactly the tag-line Test cricket needs if it is to survive these helter-skelter times.
Lawrence Booth writes on cricket for the Guardian. His third book, Cricket, Lovely Cricket? An Addict's Guide to the World's Most Exasperating Game is out now published by Yellow Jersey
Posted in Australia in India, Test cricket |