November 11th, 2008 by
Edward Craig
in
Australia in India
,
Test cricket
and tagged
Australia
,
cricket
,
decline
,
England
,
india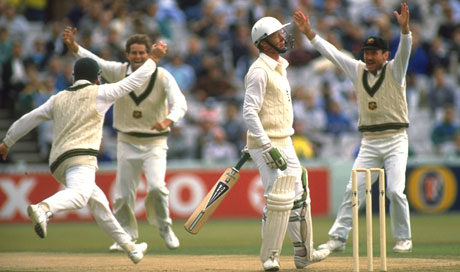 This Australian side in India looked like England's moribund set-up of the late 1980s and early 90s. Here are a few things that remind me of Bad England (as opposed to Crass England, which we have now):
Selection issues - Picking players for one Test (Siddle); scrambling around with old players who are a bit past it (Hayden); a desperate search for a spinner that leads to a player batting No.8, bowling 12 overs in the match while spinners clean up everywhere else (White in the last Test).
Run outs - Three in the final Test, all of them crucial. Bowlers only had to get Hayden, Ponting and Hussey out once in that match. It betrays hesitancy and a carelessness due to lack of direction. This is a serious symptom of a wider problem.
Basic, basic mistakes - Ponting getting it all wrong about the over-rates and not bowling Shane Watson; Haddin stopping the ball by throwing his glove at it (costing five runs); over-throws; dropped catches; serious wides. It felt like the 1989 Ashes but in a glorious reverse.
Non-amazing debuts - Australia bring a new player in and they don't score 100 and even if they do take 12 wickets in the match, they're so expensive it costs them victory. This is what always happened to England – and the guy would usually get dropped for the next Test. For so long, the Aussies produced a new player who was great from the start. Now Haddin, White, Siddle, Watson are finding Test cricket hard. They probably found out they were playing on Ceefax.
Batting strong, bowling weak - And this led to both being weak with England. If Atherton had been born Australian, he'd have averaged 45-plus (but been a poorer writer). Watch those averages slide …
Taking their foot off the gas (or throat) - Australia got into a strong position and let it slip. England were world-class at this and Australia usually capitalised. In the past, it would take an exceptional performance to win a game once Australia had got in front (VVS Laxman). In this series, it took a tea-break.
Then again, India have been very good. Not only have they made the most of these Aussie failings but also they've scored serious runs right down the order and bowled intelligently and with patience. And they've had the world-class debutant in Mishra. One side has made another look poorer than it is – for once Australia are the victims.
Posted in Australia in India, Test cricket |