November 12th, 2008 by
Alan Gardner
in
Australia in India
,
Test cricket
and tagged
Australia
,
cricket
,
decline
,
summit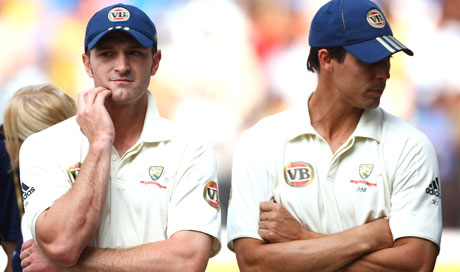 On the back of their first series defeat by more than one Test since 1988-89, we ask, are the Aussies really on the slide? Jrod has already lamented the current situation, but now it's time for the summit to make a stab at consensus. Ponting's captaincy blunders; a lack of wicket-taking; failure to seize the initiative … Australia's problems have been manifold. But how bad has it got?
John Stern
Editor of The Wisden Cricketer
The simple answer is: we don't know … yet. But the two upcoming Tests against New Zealand will be an interesting barometer of the mood in Australian cricket.
The Kiwis are a poor, beleaguered side, shorn of some of their best talent who are getting fat (literally in some cases) in the ICL. The Aussies are under the sort of pressure, from their own supporters and media, that they haven't faced in 20 years. In 2001, their defeat to India could be written off as a freak result. The 2005 Ashes loss was tempered by the magnificence of the cricket and the closeness of the result. A year ago, the Harbhajan-Symonds row created pressure of a different kind – about the spirit, rather than the quality, of their cricket.
Now they have been fairly and squarely beaten and there is nowhere to hide. My big question for the Aussies is: who are your leaders? In the recent past, their side was peppered not just with quality but character, and not just character in Paul Collingwood or Ashley Giles terms (gritty good eggs) but blokes who would, to lapse into cliché, put their hands up.
Brett Lee is supposed to be their attack leader and his record since Glenn McGrath's retirement is impressive – but eight wickets at 61 in India? Come on. Even allowing for tough conditions and for his recent marriage break-up, those are lamentable figures and are not indicative of a go-to, stand-up-and-be-counted bowler.
And that is the crux of the matter. Australia's bowling looks ordinary, adequate at best. And that in turn puts pressure on the batsmen who cannot be insulated from their bowlers' limitations. They played with freedom knowing they had a world-class attack in the dressing room. Now that they don't, they are inhibited and less effective. It can be a vicious circle.
Edward Craig
Deputy editor of The Wisden Cricketer
This particular Australian side – the one that's just played in India – are bad; 20 wickets are beyond them. They may have a strong batting line up but even sections of that are looking exposed by the weak bowling. I know it was in India – and I am sure there are some strong alternatives I haven't heard of back in Oz – but here was the trouble with each of their bowlers:
Brett Lee – off-field problems affecting on-field form but could be world class again
Stuart Clark – age, lack of pace and lack of natural wicket-taker at other end exposing him
Mitchell Johnson – far from finished article and loose
Shane Watson – impressed with reverse swing but not quick enough
Jason Krejza – if he had those figures in every Test next Ashes, I'd take it
Cameron White (et al) – whatever
[Peter Siddle – didn't see enough]
Benj Moorehead
Editorial assistant of The Wisden Cricketer
Ah look, Australia aren't so bad. Even if Beefy thinks next year is going to be a synch. Here's the possible line up for the first Test next summer:
Hayden
Katich
Ponting
Hussey
Clarke
Symonds
Watson
Haddin
Lee
Johnson
Clark
The side lacks a premier spin bowler but Ponting can at least turn to Symonds and Clarke. Otherwise the XI looks well balanced. Certainly the top six should be the envy of any England fan. Three strong allrounders at five, six and seven as well, and batting in depth. And fast bowlers with pedigree if not form.
Australia's impotence in India may be misleading. The lack of a spinner will embarrass you over there. Symonds' absence was critical. He's arguably the best pure allrounder in the game right now and Ponting will surely insist upon his immediate return.
Lawrence Booth
Freelance journalist and author
Not very. When Stuart Clark regains his form and fitness; when Andrew Symonds returns to the side; when Cameron White is dropped; when Shaun Tait comes again; when Brett Lee learns how to reverse-swing it consistently, when Shane Watson bats at No. 7 … if all these things happen, we could look back at the 2-0 defeat to India and wonder what on earth was going on. However, since all these things are unlikely to happen at the same time, let's just say for the moment that Australia will do well to beat South Africa home and away this winter. As for the Ashes … nah, it's too early to say.
Rob Smyth
Freelance journalist
Dreadful – but only on the subcontinent, and that was often the case under Mark Taylor and Steve Waugh as well. They need a new wicketkeeper but they should still beat all comers elsewhere, provided the management team aren't as lily-livered as they have been over the last month.
King Cricket

They're not bad. India's a tough tour. Australia had previously had success in India by playing patiently and defensively, so they understandably took the same approach. It really didn't work.
But they're much the same side that beat India at the start of the year in home conditions and they've won all their other series. They're weaker than they were, of course, but nowhere will those weaknesses be shown up quite so sharply as in India – except possibly Sri Lanka.
That's what we're saying so that we don't jinx it anyway. Secretly we hope they've turned into 1990s England, only with wrinklier faces.
Jrod
Shrimp barbecuer and blogger
Australia suck in India, like Tom Cruise in Interview with a Vampire. This is not an epiphany. This time they hit an India side in form, and Australia were full of mediocre replacements and out of form stars. Everything went wrong for them on this tour, and on the last day they still had a chance to draw it. Sure, they are worse than they used to be, but luckily for them, most of the other teams are even more rubbish.
This gives them the terrible record of having won three of their last four series. The only other team in world cricket to win three out of their last four is South Africa. I just compared Australia to South Africa, is that where we find ourselves? I feel so dirty, use the soap, use it, I know it's not coming off, pass me that gasoline.
So, what's your take?
Posted in Australia in India, Test cricket |