November 27th, 2008 by
Alan Tyers
in
Alan Tyers
,
England
and tagged
Alan Tyers
,
England
,
ian bell
,
the wisden cricketer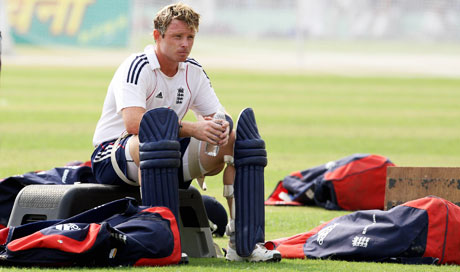 It all happened when I went into Broady's room on the Tuesday and he was playing Nintendo Wee Tennis on the Nintendo Wee with Priory, Sidey, Andersony and England cricket supremo Giles Clarke. Mr Clarke doesn't get a nickname on account of his being a new member of the tennis club but we said that if he plays his cards right he could be looking at a Clarkey in no time at all. (The nickname Gilo obviously being taken by the legendary Ashley, who is still honorary president for life of the social committee and remains brilliant value in the 19th hole to this day does Gilo).
I was just fancying a game of Nintendo Wee Tennis on the Nintendo Wee but I waited my turn patiently much as I do on the cricket field. If I'm not scoring at a run a ball up front in the innings then so be it. Or even a run an over. It's all about building to a good strong finish sometime around the ninth over and handing the baton over with a good solid platform. And if that means we're in double figures, so much the better.
Anyway, what with poor old Sidey playing I knew it wouldn't be long and sure enough he felt his stegosaurus abducticator go when he he's gone for a drop volley and had to shuffle off for a bit of treatment. Meanwhile, poor Andersony was spraying it about left, right and centre and after the Nintendo Wee controller flew off his hand and smashed the telly Mr Clarke said Andersony better sit this one out for a bit because we're not made of money in the England Cricket set-up especially after us nimrods managed to lose to a (he done a swear word here) pub team in that Stanford fiasco.
So I'm just taking my fleece off and doing my hair in preparation for a right good go of Nintendo Wee Tennis on the Nintendo Wee when who should come in but old choir eyebrows himself, Alastair Cook. Mr Clarke (and believe me, that's how it is going to stay if Belly here has anything to say about it) goes: "Alastair my boy. Come and have a game of Nintendo Wee Tennis on the Nintendo Wee, you can be on my side."
I couldn't believe it to be honest. I haven't felt so low since they stopped doing L'Oreal Superhold Wet-look Gel two-for-one in the Edgbaston Superdrug. And then Mr Clarke made me go and get him a lemon barley water and a fresh headband from his room like he was Tim bloody Henman or something. And then I had to sit and watch for about two hours and choir face never even managed to hit the ball once. I don't know why I bother.
Alan Tyers is Ian Bell's Bebo confidante
Posted in Alan Tyers, England | 2 Comments »