November 28th, 2008 by
Miles Jupp
in
England
,
One-day cricket
and tagged
cricket
,
England
,
miles jupp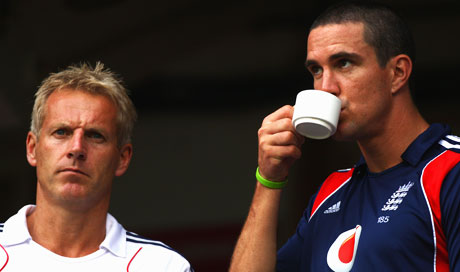 As preparation for the Fifth ODI in Cuttack, England opted to have a team meeting rather than a practice session. The following is a transcript of a tape recording of their meeting in the team room at the hotel made by a private detective.
We can hear talking, laughing and the noise of darts and table tennis being played.
Peter Moores: Excuse me everybody. Excuse me.
There is the noise of more chattering and giggling. Someone is doing what sounds like an impression of Bob Willis.
Moores: C'mon now, guys. Let's have a bit of quiet. Can you come away from the pool table for a moment?
The chattering gets louder.
Moores: (mildly) Kevin, would you mind getting them all to…?
KP: EVERYBODY SHUT UP.
There is instant quiet.
KP: EVERYBODY SHUT UP AND LISTEN TO…Er …
Moores: Peter Moores. Or Mooresy.
KP: Everybody shut up and listen to Morrissey.
Moores: Thank you Kevin. Thank you everyone. I know you're all busy, so I'll try to be brief. I thought we could all have that chat you opted for about our game plan for Cuttack. Now, I don't want to worry any of you, but I've done some calculations and we seem to be four-nil down in the series.
Murmurs of surprise can be heard in the room. An unrecognisable voice (Tim Ambrose perhaps?) can be clearly heard saying "But surely we haven't even started?"
Moores: Let's not get our heads down about this. It's just a matter of us thrashing out a solution. Now then, who has an idea of how we should play in Cuttack? Anyone?
There is a long silence, broken only by a waiter taking orders for drinks.
KP: Well we need to score more centuries. That's what I think.
Moores: Brilliant. An excellent suggestion. Any others?
Collingwood: What about half centuries? I think they're helpful too. And less stressful.
Moores: Possibly, Paul. Possibly.
Bopara: Sometimes scores in the forties can be helpful too. You know, just work the ball around a bit.
Moores: This is all good stuff.
Prior: What about someone going out there and putting together a really quick nine?
Moores: Well that's certainly something to think about, Matt. We've talked a lot about roles recently, haven't we? Is there anything anyone is particularly keen to do?
Harmison: I wouldn't mind going home.
Moores: If we can just focus on the cricket for a little longer…
Ian Bell: I'd quite like to have a go carrying the drinks.
Cook: No, no. I've baggsied that. That's my job.
Moores: I think Ian's right, Alastair. It might be time to let someone else have a go mixing the isotonics.
Cook: Alright then. I'll give it a go.
Moores: That's the spirit.
KP: Remember though Al, this is limited overs stuff, so you're going to need to play all of your shots. Both of them. Unless there's a slip in place, obviously.
Moores: Actually, if you need a bit of advice about opening in the one day game, we could probably find Tresco's number for you.
Prior: Or I could give you a bit of advice. I know a bit about opening in one-dayers.
There is nervous laughter and then what sounds suspiciously like somebody coughing and saying the word "bullshit" at the same time. Then a door opens, and we hear an enthusiastic voice.
L Wright: Oh Hi Guys! I didn't know we were having a meeting.
Moores: Sorry, Luke, I guess I must have forgotten to tell you.
L Wright: No worries. I tell you what, though, it's just as well we're all here because those one-dayers must be due to start any day now. I'm really keen to get out there and do my stuff.
An embarrassed hush descends.
Moores: Anyway, that's probably everything covered. Bowlers, we'll be taking your names out of a hat in the usual way. Just remember to keep your chins up, to try and enjoy it, and that no-one at home gives a toss about one-day games. Any other business?
Harmison: Yes, I have an announcement. Tonight's DVD is disc 2 from Lovejoy series Four. That's episodes four to six.
There is much enthusiastic murmuring about this.
Harmison: We're start the showing at seven pm promptly, and there will be a short toilet break between each episode.
END OF TRANSCRIPT.
Miles Jupp is an actor, comedian and cricket fan
Posted in England, One-day cricket | 2 Comments »