December 2nd, 2008 by
Edward Craig
in
New Zealand
,
Test cricket
and tagged
cricket
,
edward craig
,
New Zealand
,
the wisden cricketer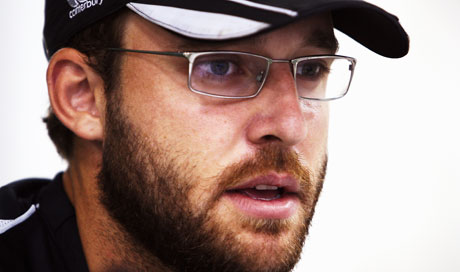 Okay, this isn't the most fashionable thing to write about, especially regarding a team that's just suffered a 2-0 drubbing, but New Zealand have the makings of a proper Test side.
They haven't had the best years, suffering two defeats to England, struggling past Bangladesh then supping on a can of Aussie whoop-ass. But there's enough encouragement in the detail to suggest the future is bright for the Kiwis.
First, they are well led by the world's best allrounder. Daniel Vettori has had a stellar 2008 – averaging 36 with bat and 27 with ball. Second, they are young. Very young. Tim Southee, Jesse Ryder, Daniel Flynn, Ross Taylor are all under 25. Vettori is still not yet 30.
New Zealand lacks depth in participation and has a flimsy first-class game, so talent is rushed into the Test side, meaning they learn on the job. It is just a fact of Kiwi cricket life and some players sink with it – this lot are learning to swim.
Taylor's hundred at Old Trafford was breath-taking. I was chatting to CricInfo editor Sambit Bal, one of cricket's more astute judges, at the World Twenty20 last September. He explained how Taylor was one of few pure, class batsmen playing – without affectation and with elegant orthodoxy.
Ryder was arrogant and untouchable against England in the one-dayers in New Zealand. Southee will get better and better but the one who quietly impressed was Flynn. Despite James Anderson re-arranging a few teeth in Manchester, Flynn showed touch, flair and bravery in a number of knocks. He's flown under the radar because he hasn't cashed in with a real score yet but it'll happen.
There are weak links – they are a batsman and bowler short (if only Shane Bond would return) – but there's also Brendan McCullum, Jacob Oram and determined seam bowlers such as Chris Martin – who bowled brilliantly at Lord's this year without reward.
And look at their defeats – they had flashes of dominance but let the initiative slip horridly – see Brisbane and Old Trafford. Classic traits of a young side learning to win.
New Zealand's biggest hurdle will be keeping their players and stopping the squabbling. With ICL and IPL offering schedule and contract-destroying alternatives – not to mention county cricket – if only there was a Kiwi Allen Stanford to break the cliques and cartels, pay the players what they're worth and help them become a serious force.
I think this will happen anyway in the next four years. If it does, you read it here first. If it doesn't – well, they're so unfashionable, just forget I mentioned it.
Edward Craig is deputy editor of The Wisden Cricketer
Posted in New Zealand, Test cricket | 9 Comments »