December 19th, 2008 by
Sam Collins
in
Miscellaneous
,
My favourite cricketer
and tagged
cricket
,
England
,
mark ramprakash
,
sam collins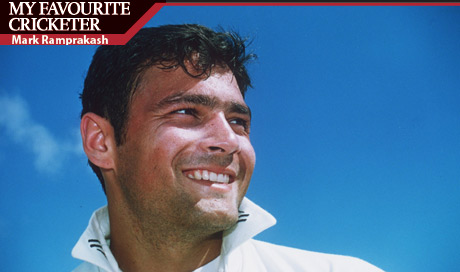 Every month TWC publishes a My Favourite Cricketer by a different established writer. Recent submissions have included DJ Taylor, John Inverdale and Simon Hattenstone, and now on TWC.com we are giving you the chance to tell us your own memories and win a free subscription to the magazine in the bargain. Submit no more than 600 words to [email protected] (subject line: favourite) and we'll publish the best ones in January. Our web-editor Sam Collins has had a go below, and we're sure you can do better than him, so get writing.
You can't control your first loves. Gazza, Lineker and consequently Spurs post Italia '90. Mark Ramprakash – England against the Windies at Edgbaston in '91. I had played cricket before, but it wasn't football. I don't really know what happened that week, but I remember Ramps, and from then on cricket made sense.
He caught my eye straight away – making two stylish 20s as Tony Lewis and Richie Benaud willed him on, infusing their desperation to an eight year old huddled on his grandmother's living room floor in Scotland. Even then there was an air of tragedy attached. He was too young, too flawless of face, technique and timing. And his eyes, dark and deep and unnervingly intense.
He never knew it, but I did everything with Ramps. I changed to GM with him, netted obsessively with him and struggled against Pakistan with him in '92. I even had my hair cut like his.
His maiden half-century at The Oval in '93 was a great day in both our lives. I had seen my favourite player score runs on my first taste of live cricket and been stung by a wasp. He had scored 64 against Hughes, Warne and Australia.
I felt guilty, but I didn't go with him to the West Indies in 93-94 – I may have been young, but I wasn't stupid, and more to the point I didn't have Sky. They called it the Caribbean Crusade, but Ramps was crucified, hung out to dry at three against the most brutal opening pair in world cricket. I couldn't see it, but I felt his pain.
I didn't know it then, but my betrayal was the beginning of the end. I soon moved back to Gray-Nicolls, seduced by the promise of guaranteed runs with Lara's Scoop 2000. Worse still, I then became a bowler. He sent me a postcard from Perth in '95 with 42 and 72 – as if to say 'See – I can do it against the Aussies, keep believing', and thanks to TMS I hardly missed a run of his 154 in Bridgetown in 1998, much to the annoyance of my teachers and disruption of my sleep pattern, but things just weren't the same.
He never kicked-on and by the next year was batting at six, sometimes seven, my protestations sounding more hollow by the day as Hussain and co. grabbed hundreds and respect at the top of the order. Solid 70s and effective marshalling of the tail had not been part of the bargain in '91.
When he made his final Test century in 2001 – 133, again against Australia, again at The Oval– we weren't even talking, his ridiculous stumping at Trent Bridge had seen to that.
Our paths would finally cross in Wellington the following year, where time the healer had me considering reconcilitation. I was travelling and watching, he was playing, and failing. He was on the outfield, stalking off after the warm-down when I approached him.
"Mark, er… Mr Ramprakash… could I have a ph…".
"Fuck off".
Closure.
Sam Collins is website editor of thewisdencricketer.com
Posted in Miscellaneous, My favourite cricketer | 12 Comments »