January 5th, 2009 by
JRod
in
South Africa
and tagged
Australia
,
cricket
,
South Africa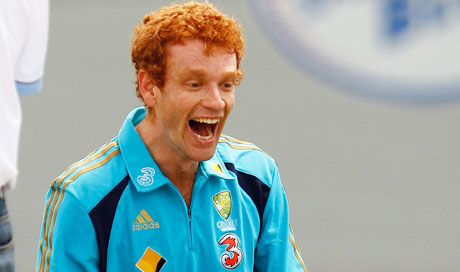 Redheads tend to stick out in a crowd.
They attract nicknames, and get more ridicule than any other brand of follicle.
Andrew McDonald, Australia's latest debutant, has hair so red that millions of Australians had to adjust the brightness of their TV sets.
His red hair is nowhere near as shocking as his selection.
Australia has always prided itself on picking players who are good enough in one skill to play Test cricket.
It is the reason they have had fewer allrounders than other countries.
Players like Simon O'Donnell, Greg Matthews, Ian Harvey and Shaun Young would have played far more in other countries in the last 20 years, but Australia decided that they weren't good enough at either skill to get Test careers.
Andrew McDonald is not as talented as any of those men.
His first-class batting average of 38 is below par for an Australian of 27 years of age, his two centuries are simply not good enough.
His bowling is medium pace while a career average of 30 at just over two wickets per game is hardly going to give anyone nightmares.
This is a panic decision.
Australia has suddenly worked out that they can no longer take 20 wickets with four bowlers, and they have grabbed at the best performing allrounder in state cricket this year.
Most people in Australia didn't know who Andrew McDonald was before this, not even to say "isn't he that ranga (Australian for ginger) one".
He hadn't played IPL, he hadn't played Australia A, and he was on no one's must-watch list.
Before this test even the more learned Australian cricket fan would have struggled to pick McDonald out of a line up if Dominic Thornely (another ginger allrounder) was in it.
McDonald, amazingly nicknamed Ronald, may have shocked most with his selection, but his batting position is even more confusing.
For Victoria he bats at No.6, behind Cameron White, White batted at eight for Australia in India, yet McDonald is batting at six here.
You may ask why a man with two first-class hundreds is batting at six for Australia, when David Hussey, Brad Hodge, Marcus North, Phillip Hughes, Shaun Marsh, Adam Voges, and Cameron White are all playing for their states.
Don't bother, it will only hurt your head.
Jrod is an Australian cricket blogger, his site Cricketwithballs.net won July's Best of Blogs in TWC
Posted in South Africa | 6 Comments »