January 22nd, 2009 by
Miles Jupp
in
England
and tagged
cricket
,
England
,
miles jupp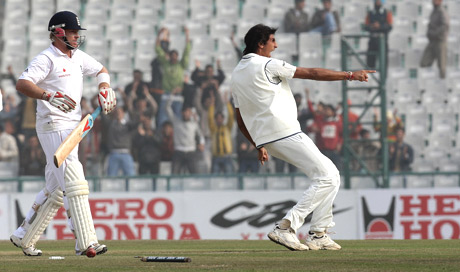 Ian Bell has much to do in the Windies if he is to convince people that Owais Shah's exclusion from the England side is justified.
On the face of it, there isn't much missing from his game. He is technically brilliant, leaves the ball well, hits beautiful on-drives, works hard and is capable of electrifying fielding. In 45 Tests he has eight centuries, 19 fifties and a decent average of 41.27.
But there is still something he lacks. Some think he should develop Collingwood's habit of ugly run-making. I don't think that that's the problem. What frustrates people about Bell is that he's just not as good as he could be. What Bell needs is a swagger.
He's played enough Tests to be considered a senior player but he still manages to look timid at the crease. You expect him to look to the player's balcony and check with the captain if it would be OK to play a few shots. Even if he's absolutely bursting for a slash I bet he waits till the end of a session just to avoid causing a fuss.
He has to let himself go in both senses. He bats a long way within himself but is capable of far more effrontery, such as the straight sixes he hit off Glenn McGrath during his torrid 2005 series.
Off the field he is a reserved man. He's more of a blonde-highlights sort of a guy, than a peroxide streak. I'm not saying he needs to change the way he behaves all the time. It's OK to have a nickname that is simply your own surname with a "y" at the end. He doesn't need to start wearing diamond ear-studs or earning himself a moniker like "The Spankmeister" or "Lieutenant Fun-Time". But I would love to see him be more full-blooded at the crease.
At this moment of presidential inaugurations, Bell should take inspiration from Franklin Delano Roosevelt's speech: "We have nothing to fear but fear itself." I think that most historians would be able to tell that what FDR meant: "You'll do a lot better trying to drive the ball straight back over the bowler's head than you will getting half-forward and prodding defensively".
Going in at No.3 against this West Indies side is a great chance for Bell to start showing swagger. I've always wanted to see him just go out there and do what he can do. I'd love Bell to succeed but I worry that if he doesn't start showing swagger now, he'll soon be out of favour. And it's hard to show swagger if he's carrying drinks.
Miles Jupp is an actor, comedian and cricket fan
Posted in England | 4 Comments »