March 3rd, 2009 by
Jrod
in
Test cricket
and tagged
cricket
,
Jrod
,
the wisden cricketer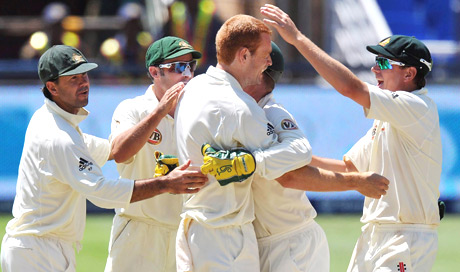 There was a time when Australia thought a defensive field was anything less than three slips and a short leg. Now they think an attacking field has only two sweepers.
Australian cricket has changed, maybe not forever, but for the time being the attacking instincts are on hold. It would be easy to say it happened when Warne and McGrath left but the change in outlook didn't happen till the losses started.
Well it started after one loss in particular – forget the mess in India, because none of that makes sense. When South Africa chased down 414 in Perth it changed Australia's mindset. Jason Krejza was picked for that match, he went for four runs an over. Since that time Australia has picked at least one defensive bowler to stem the flow if the game goes bad. And Jason Krejza hasn't been close to selection, even though in the Test before he took 12 wickets.
When they arrived in South Africa they took it one step further, picking only three front-line bowlers – and Andrew McDonald. McDonald's medium pace is a weird, mutant version of Mark Ealham and Jacob Oram. It's always online, it has movement, it's fairly slow and completely unremarkable. But it is tough to score against.
There is not a time in history that he would be regarded as a front-line bowler. He is a bowling plug. Australia don't care. They lost two series and got sick of losing. McDonald's job is to block up one end, while two of the most exciting fast bowling prospects in the world are released at the other end.
McDonald has played two Tests – Australia has won them both. He has taken five wickets in those two matches; Siddle and Johnson have 26. He has helped them take those wickets.
Australian fans of the past would be screaming at every TV in the land at this betrayal of the Australian attacking spirit but Australians have just watched Australia lose two series in the space of two months. Australians hate losing way more than they hate winning ugly. Australian fans are already backing this limp defensive conservative approach – don't expect that to change while Australia wins.
As for the team, they used the attacking mode when that worked for them, now they will use the defensive mode until that stops working. Then, when they start attacking again, they will accuse other teams of playing defensively. Without a touch of irony.
I would prefer Australia picked four front-line bowlers without a defensive option but I would also prefer Ricky Ponting didn't spit into his hands every 30 seconds, that Brad Haddin would revel in being a cheat and for Natalie Portman to say she loves legspinners.
Jrod is a legspinner, as well as an Australian cricket blogger. His site Cricketwithballs.com won last July's Best of Blogs in TWC
Posted in Test cricket | 5 Comments »