March 20th, 2009 by
TWC
in
England
,
My favourite cricketer
and tagged
Robin Smith
,
west indies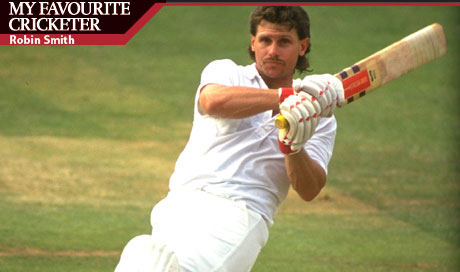 Thewisdencricketer.com reader Rich Cridge is the latest winner of our My Favourite Cricketer competition for his entry on the Hampshire and England batsman Robin Smith.
Cricket has always been there for me: Tony Lewis's Welsh tones in the background as my father would watch the Test on a summer's evening. My uncle playing for a local team and occasionally dragging me off to play when they were short; and of course it was always best to visit granny when she was doing the teas.
It was 1988 (I was 10). England were on their third skipper of the season and in the middle of yet another beating at the hands of the rampant West Indians.
The exact date was July 21 and a new player, Robin Smith, strode to the wicket to join Allan Lamb with England in trouble again. For a short time something strange happened: these two batsmen stood up to the West Indian bowlers. We could still win, I thought (well I was only 10!). Then Lamb pulled a muscle in his leg and had to go off; the innings crumbled. But that short moment was my awakening. Cricket had got me and it has never let go since.
Over the next five years, the young Smith would go on, along with Graham Gooch, to become one of England's best players, the wicket most coveted by opponents. He stood almost alone against the Aussies in '89. He took a full part in the run glut that was 1990 and then scored two hundreds against West Indies in 1991.
So what was it about Robin Smith? If asked back in '88 I'd have been unable to answer, but by '91 I knew. His bravery – he was a real (bats)man. There have been lots of brave batsmen, but they'd have had to go some to beat Smith. On the 1990 tour of the West Indies, while batting without the added safety of a helmet grill, a Courtney Walsh bouncer slammed into this cheek. The camera zoomed in and you could see the swelling grow before your very eyes. Smith didn't flinch, brushing away the worried West Indian fielders and England's physio.
He owned the best square-cut in the world. He also lived just down the road from me in my home town of Salisbury, and from time to time he'd be spotted about. As a teenager I was taken to see a county match at Hampshire; Smith's autograph was the one I had to get. I can remember marvelling at the size of his bear-like hands as he took my pen to sign his name across the card.
His international career was cruelly cut short in 1996, at the age of 32. It was thought that he couldn't play spin. Maybe he wasn't the best, but then how many people were mastering Warne, Muralitharan, Kumble and co. at the time? Let's not forget he hit 128 in Sri Lanka at the end of the ill-fated 1992-93 tour of the subcontinent.
He should have played well into this century and would have become one of England's all-time greats. Maybe that's part of his appeal – the best always leave you wanting more.
Rich wins a year's free subscription to The Wisden Cricketer
To enter submit no more than 600 words on your favourite cricketer to [email protected], subject line 'favourite'
Posted in England, My favourite cricketer | 3 Comments »