March 20th, 2009 by
TWC
in
Miscellaneous
and tagged
In It to Win It
,
Peter Roebuck
,
weekend read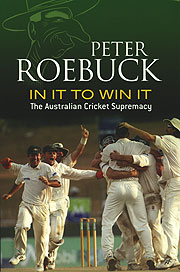 Every Friday we'll be picking a classic cricket book that has been reviewed in TWC to help you pass the weekend. Make your recommendations in the comments below.
What is it?
In It to Win It: he Australian Cricket Supremacy by Peter Roebuck (Allen & Unwin, pb, 246pp, £8.99 - not available in UK book stores)
What's it all about?
A perceptive commentary on what makes Australia a winning force
What did we give it?
4/5
What did we say?
Peter Roebuck, who is one of a handful of the best contemporary cricket writers, is an elusive character. He is proud and prickly; judgemental and a disciplinarian by nature, who is also easy-going and caring. He writes with the authority of a former player (Somerset and Devon) and the occasional whimsy of someone who can see, most of the time, that cricket is a game.
Roebuck describes this book – written after Australia's 2005 Ashes defeat and now reissued in paperback – as "a search for Australia through cricket". The argument, stated briefly, is that until Ian Chappell and Kerry Packer erupted on to the scene in the 1970s Australian perceptions were still informed by Bodyline – "a sense of injustice – never quite subdued – of being thwarted on the very cusp of achievement".
Aggression replaced the sense of injustice in the '70s: "Australia needed its spirit, its assertiveness to establish a sense of belonging – it is no coincidence that the disrespect shown by Chappell and Packer to the idea of England was followed by the longest period of domination the game has known." Rejoicing in success, he writes, arises from a desire to confirm that Australia is a nation state. The logic is fascinating. If Ricky Ponting goes on winning, does it mean Australia will embrace republicanism?
Roebuck is just the man to identify this trend. He shares with Packer and Chappell a disrespect for the idea of England. It grips him hardest here in his account of the final day of the final Test in 2005. The behaviour of the crowd was "jingoistic, self-justification – the mood of the crowd bordered on the demented," he writes. "The spectators were, manifestly, more interested in England winning than in watching cricket." Exactly. These spectators had endured years of Australian cricket supremacy, and here they were, behaving aggressively and assertively, just like a crowd of Australians.
He ended the book in 2006 by stating that Australia would soon recover the Ashes: "The Australians have no intention of accepting defeat as part and parcel of the game of cricket." And before he gets to the end he describes with skill and perception the games that exhibited their cricketing greatness. These teams require and deserve a fine interpreter. As long as Roebuck is writing for the Sydney Morning Herald they have got one.
Stephen Fay, November 2007
Why not tell us what your favourite cricket book is, or which book you'd like to see in 'The weekend read' in the comments below …
Posted in Miscellaneous | No Comments »