March 26th, 2009 by
Miles Jupp
in
England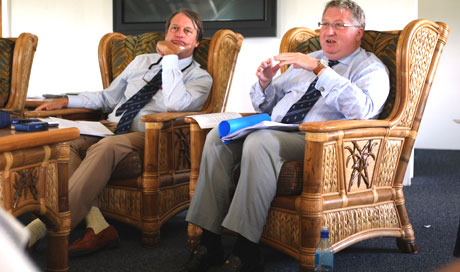 Cricket's greatest rivalry is no longer the between India and Pakistan or England and Australia but is instead between the various administrators of the game in India and our own wretched ECB.
England's women cricketers should have made this a week to savour but their total dominance in the World Cup was knocked almost totally out of the papers by another classic piece of ECB stupidity.
While the Indian administrators resemble sharp, powerful city slickers we are stuck with David Collier – the sort of man one might see waddling around a regional sales conference in an ill-fitting suit with a mouth full of cheap lemon cheesecake asking if the drinks are complimentary.
Like so many ECB decisions, their ludicrous offer that England and Wales would be capable of hosting the IPL at this time of year and at such short notice sounds like the sort of thinking that could only result of a long and heavy lunch.
So much was wrong. Not only is the summer's schedule already packed sardine-tight, but if the 2012 Olympics have shown us anything it is that the British people are at best ambivalent about hosting sporting events. We have very poor form in this area: the '99 World Cup was a grey affair with as much celebratory atmosphere as a teetotal barn dance.
How could it have escaped the ECB's notice that the climate would be a factor, and that over two-thirds of games in the proposed schedule would be adversely affected? Do Collier and Giles Clarke not appreciate what the weather is like in England and Wales in April?
Presumably people are unaware of this if they watch most games from the comfort of a corporate hospitality box. Perhaps they're so busy networking that they fail to hear the rain lashing against the windows, and don't notice that the cricket they see being played on the television that they occasionally throw a glance is actually highlights from a game against New Zealand in 1986 that Sky have put on until the weather clears.
The declaration that we would be in a fit state to host the IPL is not so much evidence of ambition as an example of the sort of blind, rationale-free optimism that wouldn't look out of a place on an episode of Deal Or No Deal - in which the contestants try and convince us that there has been some real thought behind what is actually a series of totally random choices.
I'm glad that we won't be hosting the IPL, because I think our administrators could do without the distractions. But what I'd really like to see isn't the coffers swelling but our men emulating our women and winning some cricket.
Posted in England | 5 Comments »