August 3rd, 2009 by
JRod
in
Australia
,
Test cricket
,
The Ashes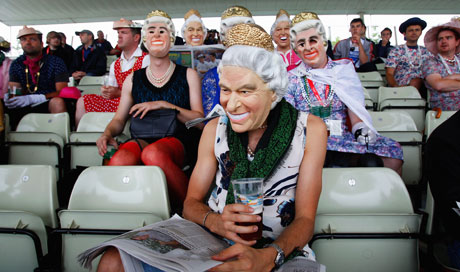 I grew up in Melbourne, so I know what a party ground looks like. At a one-day match one day Mark Ealham tried to pull McGrath and top edged it for six. The crowd of 75,000 didn't notice. They were too busy watching people get thrown out and trying to start a Mexican wave. Edgbaston is something else though.
When I got to Edgbaston on Saturday there was never very much chance of play. At Melbourne everyone would filter out to pubs outside the ground. At Edgbaston there was about 35 games of wet cricket being played.  People found shelter and beer ensuring a good day.
The best game I saw was at the end of the day, a combination of weird French chefs, scary assed clowns and Dame Ednas. The pitch kept a bit low, and the standard of cricket suffered accordingly but it was the closest thing to a cricket match people got to see.  People definitely wanted to watch it. Hundreds. It was almost impossible to walk past and not watch.  One of the clowns had a beautiful cover drive.
The drunks, even the non-playing ones, provided even more entertainment. One guy who appeared to have one of Stuart Broad's shirts on was stumbling around for 30 minutes while a whole tents worth of people watched and cheered on.
At one stage I drank a pint poured by Mike Gatting as part of some sort of promotion.  That is something I will tell my grandkids about, and they won't care.
There was also vomit, lots of vomit. After hearing from TWC's Gideon Haigh about a 10-minute vomit episode he saw (and couldn't walk away from), I had my own.  In the toilets a middle aged man stormed in, wearing a nice suit and stripey shirt combination and then vomited all the way up and down the cubicle door before going in to finish off.
Even 90 minutes after the day was called off people were still hanging around, even though the bars were closed. Super heroes, cartoon characters, women with huge fake breasts and adam's apples, and pirates.  I doubt I have ever been anywhere with as many bad costumes as this ground had.
As far as days go with no cricket, this was a great one, beer, comedy, and vomit.  It was worth me getting up before 7am.
Jrod is an Australian blogger, and now author. His book The Year Of The Balls 2008: A Disrespective is available now
Posted in Australia, Test cricket, The Ashes |