August 3rd, 2009 by
Jrod
in
England
,
Test cricket
,
The Ashes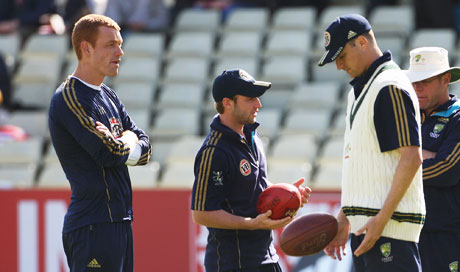 Australia came up with a plan to beat South Africa, choke them (not a World Cup joke). It worked. South Africa lost two Tests at home without ever scoring at better than three an over.  They were completely suffocated.
Then Australia came to England and threw that plan out the window. It appears their new plan is to ball so many hittable balls that the English will be tired and eventually play a stupid shot.
It is a variant on the rope-a-dope boxing tactic. It could work if a) the Australian batsmen make 600 b) they English batsmen don't work it out c) if the planet starts rotating around the moon and not the sun.
England have scored at better than four an over in every innings except the one they played for a draw. This Test they managed to do it without KP, and with Ian Bell.
Andrew McDonald has not played a Test in this series and yet he was the major cog of the defensive strategy that beat South Africa. Stuart Clark has also not played a Test yet and he is Australia's best defensive bowler.
Instead Australia have persisted with their two South Africa destroyers, one of which has taken two-and-a-half Tests to find his radar and the other who has lost his luck and his ability to slow down the scoring (A curse of writing for TWC perhaps?).
This tour is much more representative of their tour of India. Bringing in players to plug gaps and ignoring players who could make a difference.
Even though it has appeared successful in this match, Shane Watson's selection as an opening batsman was as sensible as picking Cameron White as a frontline spinner. Neither player had ever really had first class experience in the jobs.  It came from a mid-tour freak out.
Watson could easily bat at four, replacing a man who remembers what runs are, but not exactly what they look like. Hussey has hit less Test centuries in the last 18 months than Hughes has in his five Tests.
Whether the panic brought on the high run-rates or vice versa is still unknown, but one thing is for sure, Australia need England to lose a Test, as they look unable to win one on their own.
Jrod is an Australian blogger, and now author. His book The Year Of The Balls 2008: A Disrespective is available now
Posted in England, Test cricket, The Ashes | No Comments »