August 4th, 2009 by
Sam Collins
in
County cricket
,
England
,
Test cricket
Graeme Hick was one of England's great enigmas. Eighth in the all time records with 136 first class hundreds, Hick averaged just 31.32 in 65 Tests for England. He retired at the end of last summer after 25 years in the game, and Worcestershire have recently named the pavilion at New Road in his honour. He was speaking to Sam Collins.
How are you finding retirement?
I'm enjoying it. I'm doing some days for the PCA and trying to get some media work. I've done a bit of training, and done some work for Setanta covering the IPL from South Africa and a bit for Eurosport, so I'm hoping to get my foot through the door with some other networks and get some airtime. At the moment I'm leaning towards television, but I wouldn't mind going into radio either.
You've obviously experienced the media first hand throughout your career. What sort of style pundit will you try and be?
A fair one. From the little bit of work that I've done I've just passed comments on as I've seen it. I don't see the need for being critical. I'll try and be constructive if I have anything to say, but sometimes it's the way you say it that can make the difference.
You played in the Indian Cricket League last winter, how was that?
I enjoyed it. I was very surprised, I wasn't expecting it to be as intense and as good as it was. If it doesn't continue it will be a loss to Indian cricket actually because it was a great breeding ground for their younger players. Every side had a physio, trainer and manager and local Indian people being taught as well, so there was a lot of good about it for Indian cricket. It's a shame it's gone the way it has because it was intense, good, healthy competition. I enjoyed the three games I played, but obviously there is a lot of politics involved.
Have you been paid yet by the ICL?
I'm not sure many have actually. We've been given a date of sometime in August so we'll wait and see, I think everyone's holding their thumbs.
Do you look back on your career as enjoyable?
Yeah, I enjoyed all of it. I don't think you can expect to go through a career of 25 years and expect to have highs the whole time, so you have to expect the lows. I would have liked to have performed better at Test level, but that's all I have to look back at and regret. It was a great opportunity. Playing cricket for 25 years, travelling round the world, going to the Caribbean, New Zealand, Australia. There was the odd time where there was a little bit of a downer playing international cricket but in truth I can't look back after the opportunities I've had and the life I've lived and have any regrets.
What do you remember about that first series against West Indies?
It was really competitive. At the time they were the strongest team in the world. It was tough. They had five high quality fast bowlers. There was a lot of pressure. Looking back, I remember starting the summer not that well, and in hindsight it was maybe just all the pressure building up towards me making my debut, but that's what international sport's about.
Do you think people expected too much of you too soon?
Already having 57 first-class hundreds under my belt, playing the kind of cricket that I had been playing, I think people did expect a lot. I also expected a lot of myself, and I think at times I put myself under too much pressure, rather than just going out there and batting with a bit more freedom like the way I played my county cricket. Especially after I failed in the first part of my Test career I was always trying to play catch-up. I think at times I certainly did put myself under too much pressure to perform, and this was with all the other pressure that came from outside.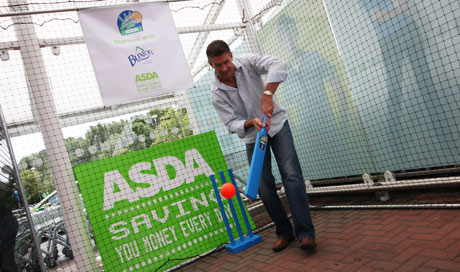 Did it annoy you when people said you couldn't play the short ball?
The funny thing is I've seen people like Mike Hussey get hit on the head two or three times since the winter and no one's made a point of it. Suddenly it just became an issue that the media made facing what was a very strong four-pronged West Indian attack. No one had mentioned it before but in the end it messed me up a bit because if I did get out to a short ball no matter what shot I was playing, whether it was attack or defence, it was up for criticism. I got caught between two stools really instead of going and playing freely and maybe the way I would have done had I not received those criticisms. Unfortunately if I had been a bit more arrogant or a little more thick-skinned then I wouldn't have taken or listened to a lot of it. We're all different. Yes, it did annoy me because I'm sure there were other people playing in the same way or making the same mistakes but the criticism wasn't levelled at them. That's the media for you though.
Who was the best captain that you played under?
The best captain I played under was definitely Nasser Hussain. Definitely, without a shadow of a doubt. I thought he was very good.
Do you feel that in general the attitude of the selectors or the coaches was a hindrance to you in that period of the mid-nineties?
There are two sides. Sometimes I felt that I wasn't justified in being dropped, other times I thought it was fair enough. Unfortunately the only thing I didn't really enjoy was batting down the order because as soon as anybody starts shuffling the order around it's normally your number six or seven batter that's going to go. That was the only thing that I didn't enjoy whilst playing – I wasn't at my best batting at six and down the order. If I had had the choice I would rather have batted all my career for England at No.3 or maybe No.4, and if I was going to fail, at least fail in that position rather than down the order. I didn't enjoy sitting and waiting around much at all.
When was the time in your England career that you felt most comfortable?
Pretty much through the middle part of it really. If you took out the first and last year of my England career in there was a middle period where I was scoring well and I took my average from nineteen to the high thirties. But I was still finding myself being dropped once a year so sometimes it was quite hard to work out. During the '92 winter when we went to New Zealand and then went onto the World Cup I enjoyed that six months and felt pretty good as part of the team. And the one-day series in Australia in 1999 when I got two hundreds against Australia and a hundred against Sri Lanka and ended up being joint man of the series with Glenn McGrath. They would be the two passages of time that I enjoyed most for England.
The media have always made a big thing about Mike Atherton's decision to declare on you on 98* in Sydney in 1995. Is that something that genuinely affected you?
No. It didn't affect me. As captain Athers made a decision and he pulled out. Sometimes the captain makes the right decision and sometimes he makes the wrong decision. At the time for the team I don't think that it was the right decision and I think that Athers admitted that he had got it wrong later on. When people have asked him in hindsight he has said that it wasn't the right decision. As captain you've got responsibilities to make those sorts of decisions. I've got no grudge against Athers at all. Yeah it would have been great because obviously it was the only chance in the end I had to get a hundred against the Australians.
Do you think that people focus too much on your Test career and ignore your excellent one-day record?
Maybe in 20 years time people will be talking more about T20 but certainly now everybody says that you're judged by your Test career. That's where you want to perform to prove what your worth I suppose. Unfortunately I had a bad start and at the time there were a lot of strong international attacks out there. I don't think the international attacks that are around at the moment are quite what they were 15 years ago. But it's a cycle and the way things go.
What's your proudest achievement in cricket?
My proudest moment now will be when I receive my MBE. I suppose that's a reflection of my 25 years of effort for Worcester and the game and the way I've conducted myself. Come that day, when I stand and receive that, I know I'll feel a very proud person, an honoured person.
Graeme Hick was speaking during an event at the Cardiff Coryton Asda store where Asda are making cricket available to Asda shoppers by putting nets in 15 car parks around the country during the Ashes.  He was supporting the Asda Kwik Cricket Competition, driving 130,000 primary school girls and boys from 12,000 school across the UK to get healthy and active through cricket.
Posted in County cricket, England, Test cricket | No Comments »