October 24th, 2008 by
JRod
in
Australia in India
,
Test cricket
and tagged
bradman
,
tendulkar
,
the wisden cricketer
,
twc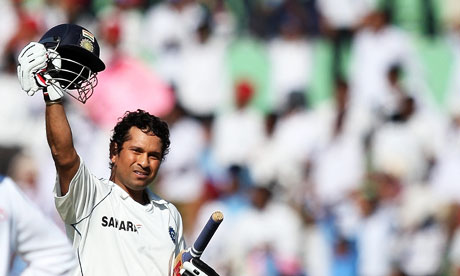 Is Tendulkar the most overrated batsmen since Bradman?
I know what you are thinking, fair point Jrod, glad someone finally said it.
Scoring the most runs in Test history is impressive but it means you stuck around for a long time and could bat, I mean Boycott did it, so it can't be that special.
It's not that I don't like Tendulkar – it's just that, since the new millennium he has just been pretty good. Not great.
Definitely not God-like.
He was great in the 90s, oh how great he was, but in this millennium he was weighed down with the expectations of a nation, middle age, celebrity and chunky bats.
Statistically there is very little difference, from 89 to 99 he averaged 56, and from 2000 to now he averages 52.
But this isn't about averages.
Watching Sachin in the 90s was like heaven – sticky sticky heaven.
In 1998 when he took Australia apart, he was like Genghis Khan, pure brutal elegance.
In 2004 he made a double hundred against Australia in which he put his cover drive away because it wasn't working. It was like watching a dentist pull teeth, except without the cool teeth hitting-the-floor moments or lots of blood.
Every now and then old Sachin comes out, and it is glorious, but then the new one takes over and asks if you have any deductibles.
So does someone who is great in one millennium and pretty good in another deserve all the acclaim? Probably not, but if he doesn't get it, people will have to acclaim Jacques Kallis.
As for Bradman, the Michael Hussey of his day, we all know that had he played in the 1940s more, his average would have dropped to 45.
Can you imagine watching Bradman, hitting the ball on the ground, playing it safe, and always making runs?
Boring.
Jrod is an Australian cricket blogger, his site Cricketwithballs.com won July's Best of Blogs in TWC
Posted in Australia in India, Test cricket |