November 19th, 2009 by
Alan Tyers
in
Alan Tyers
,
England
,
Miscellaneous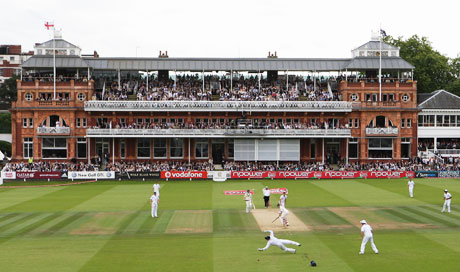 Firstly, obviously we will definitely NOT be renaming the ground, or removing the names of legendary players from the stands. We have made this perfectly clear to our corporate partners, and all the chaps in the GetViagraOnline Denis Compton Upper, the www.pokerparty.com Free 25 Pound Bonus With Every New Credit Card Sign Up Edritch Lower and the I Can't Believe It's Not Warner Stand have been most understanding.
As for facilities, we want to move the MCC into the 21st Century, or definitely the late-19th at least, and are proud to announce the inclusion of a women's toilet by the grandstand (closed matchdays).
The new-look Lord's will focus on inclusivity, a key element of which is the provision for two Real Tennis courts, which we understand is absolutely the "cool" new sport in the inner cities and a sure way of ensuring that there is something for everyone at Lord's. These courts will be open to all members of the public on St Swithin's Day from 4.15am-4.35am. Ticket ballot applies.
The subterranean headquarters under the nursery ground will feature state-of-the-art facilities for the training of Lord's stewards. We are installing nine areas of 'practice terracing', that will enable stewards to recreate almost any crowd control situation. From clambering over 46 people to shout 'NO MOBILE PHONES' at a windcheatered tragic who has just received a text message with his phone on vibrate; to detecting a potentially incorrect length of ankle sock on a member's guest at 150 paces; to performing a citizen's arrest on a spectator at deep midwicket for "moving behind the bowler's arm", our stewards will continue to make the matchday experience even more enjoyable for everyone.
There will also be an Academy Of Excellence for our Alcohol, Firearms, Tobacco And Comedy Trumpets Detection Team. This will offer training for young security agents in the correct procedure for strip-searching and punishment-beating any matchday customers suspected of smuggling in a bomb or, more importantly, a can of shandy.
Despite projected costs of £400million, we are confident that these plans can be covered by about an afternoon's takings in the food court on a Test match Saturday. Taking into account year-on-year increases over the last decade, we are confident that we should be able to charge £360 for a small pie and about £170 for a pint of lager by 2021. For less well-off customers, there is the possibility of payment-by-instalment options at the burger van.
These are exciting times, and our respected German architects are confident that building work could start on October 11 2016 at about 10.25am. Our London-based building contractor, Patrick O'Rourke And Sons, reckon they can definitely have it all finished by 2021, or possibly 2285, because they've got another job on in Kilburn and it's murder getting over on the High Road what with the congestion charge but they'll do everything they can and it won't cost a penny over 1.2 billion as long as we can do it for cash.
By Alan Tyers
Posted in Alan Tyers, England, Miscellaneous |