December 1st, 2009 by
Sam Collins
in
England
,
Test cricket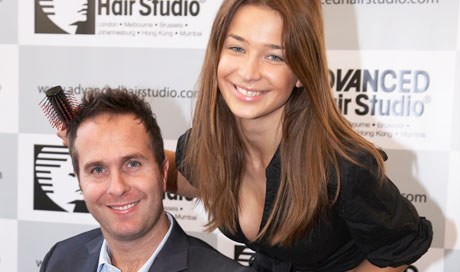 Tuesday lunchtime at TWC towers. Stomach rumbling. An appointment with the local sandwich shop, and more importantly their beguiling French waitress (think Amelie) beckons. No such luck. "Vaughany's doing a Warney," comes the cry from across the desk. "In 45 minutes, so get your skates on".
And so it is that an hour later, stomach still rumbling, I am watching Michael Vaughan smiling for the camera while having his new barnet combed by a female model (more Keeley) bent forwards over him in a top that would be best described as short. They have it tough nowadays, ex-pros.
"Doing a Warney" is, for those of you who don't regularly scan the corners of tabloid back-pages, a reference to Shane Warne's commitment to Advanced Hair Studios, who claim to have helped 300,000 people around the world with their patented Strand-by-Strand hair improvement programme. "Advanced Hair. Yeah Yeah!", sings the cover of the AHS brochure from a picture of a contented Warne, and it certainly seems to have done the trick for Vaughany, who won't be needing to call for a new lid anytime soon.
Vaughan has been busy off the pitch in the last year or so, embracing artballing and chalet-promoting alongside media work, and he seemed in good form as he prepares to head out to South Africa to commentate for Test Match Special. He had clearly done a little work in the (hair)nets ahead of the obligatory bob-related question: "The treatment started about seven months ago, so I had it all summer and no one noticed, which is proof that it is a great product," he says. "I'm joining the ex-England captain Graham Gooch, and there's no question that Andrew Strauss will be here soon. They'll be making a tube line to these offices straight from Lord's". Like Vaughan's cover drive, a line worth recalling even after hearing it reeled out for the third time.
An imposing man in the flesh, it is easy to see how Vaughan commanded the respect of his team-mates, even if they now have reason to give him some stick when they run into him in South Africa. That respect is something he thinks comes easily to Andrew Strauss, "He goes out at the front, scores runs and leads by example. I know he has a great amount of respect from the team, and has a lovely manner with people. I've always said that captaincy is just management; you have to be able to manage different characters and players and Straussy has that ability to manage all different types of people. Tactically, that comes with time and experience. Managing people is the most important aspect."
Yet Vaughan was less effusive when discussing the prospects of Alastair Cook, lined up by the ECB to take over when Strauss rests in Bangladesh. "Captaincy should come to you when you are ready. Alastair Cook, first and foremost, needs to concentrate on having a great series in South Africa. Jonathan Trott has had success opening in the one-day series, so there is nothing to say he can't open in the Test series. Cook must put all his energy into scoring as many runs as he can in South Africa. He's got to be one of our top batsmen there, and if he's not then his place is really under pressure. There's no way you can take on a captaincy job if your place in the team is not secure. He's got captaincy potential, and if he has a good series in South Africa and Strauss is rested then yeah, he's the man. If he doesn't have a good series, then you can't send a young guy whose fighting for his place to captain England."
But it is rarely as simple as that for England, and not many captaincy alternatives to Cook present themselves. Vaughan himself got the job in a hurry after Nasser Hussain's shock resignation back in 2003, with Marcus Trescothick the heir (or should that be hair) apparent. Few regarded Vaughan as a natural captain, but he would become England's most successful ever. For his part, Vaughan believes that most captains are born, "You have to be pretty good straight away. I think people are born to be leaders. There are people who aren't, and mature and develop through time, but certainly in sport a lot of leaders are born."
That is all in the past. For someone who seemed to be tearing his hair out for the last year of his international career, Vaughan seems relaxed in his new role, and full of confidence in the new England that has grown in his absence under Strauss and Andy Flower. "I think they've got a really good chance. I see them going with Trott at three, KP four and Collingwood at five, with Ian Bell the man to miss out unless they go with six batters. I'd like to see Luke Wright at seven, with Broady at eight, and at least have five bowling options. Wright has something about him. I like his energy and his hustle-and-bustle. He doesn't do a lot with it, but he looks like he might have that knack of taking wickets at silly times, and he keeps running in. His batting is very dangerous at number seven, I like the way he fields and I'd invest some time in him."
Luke Wright – now there's a man with a healthy head of hair. All in all a worthwhile trip then; after all, it's not like Amelie was hair today, gone tomorrow.
Sam Collins is website editor of thewisdencricketer.com
Posted in England, Test cricket | 2 Comments »