December 2nd, 2009 by
Lawrence Booth
in
England
,
Test cricket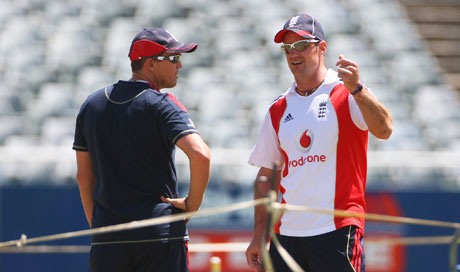 England are already doing just fine, thank you, without Andrew Flintoff in their one-day side, but in a fortnight's time they will embark on a new, post-Freddie Test era. And the gaping hole poses a question: exactly what sort of a Test team do England want to be?
The conundrum is this: play it relatively safe with six batsmen, Matt Prior at No. 7, and four frontline bowlers? Or bat Prior at No. 6 and include Luke Wright as the fifth prong in the bowling attack? (The third option is to bat Stuart Broad at No. 7 and bring in Ryan Sidebottom, but this may be the least likely.) The route England choose will tell us a lot about their state of mind.
In his excellent book, Time to Declare, Michael Vaughan characterises his captain/coach relationship with Duncan Fletcher as one in which the pair agreed 98% of the time but very occasionally diverged on the question of aggression. Vaughan portrays himself as the gambler, Fletcher as the risk-assessor. "Duncan never really liked declaring," writes Vaughan. "Maybe it was the southern African in him…" And yet history tells us the creative tension, imperceptible at the time to outsiders, worked a treat.
Which brings us to Andrew Strauss and Andy Flower. Yes, a smart, understated, English leader of men and a canny, laconic, technically astute Zimbabwean. If Strauss's natural inclination will be to plump for five bowlers, Flower may err towards four, which would mean a reprieve for Ian Bell (who will otherwise be dropped the game after top-scoring in the first innings of an Ashes decider). We are in territory that is both familiar and – because of the sudden absence of the balance provided by Flintoff – unfamiliar.
Five bowlers would be the belligerent approach, the bucket-and-spade-wielding retort to all the sand kicked in English faces over the last few weeks by those bullies Graeme and Mickey. Four could imply a lack of faith in the batting line-up, which is now oozing runs from sources other than Strauss and Kevin Pietersen. And as Vaughan pointed out to this blogger in conversation yesterday, it's also a risky tactic if you lose the toss.
England have always been more comfortable with a five-man attack, leaving captains spoiled by their own riches – Steve Waugh and Ricky Ponting – to fight the corner for four. Yes, it would mean taking a chance on Wright, who is still finding his feet in the one-day team, let alone longer forms of the game. But England will win nothing by being shy, and Wright may just be one of those cricketers who turns out to be more than the sum of his parts.
Five years ago in South Africa, England's crucial win at Johannesburg was built on the kind of anti-shyness they must deploy now. Here's Vaughan in his book: "I can honestly say I did not care whether we lost or drew this match and therefore the series, I just wanted to have every chance of winning it. So before we went out for the second innings I gave the instruction that we were to go all out for victory, and that the batsmen should not hang around."
The upshot was a stunning 180 from Marcus Trescothick to set up a final-day declaration ("Not for the only time in our partnership, Duncan was not entirely happy") and some inspired swing bowling from Matthew Hoggard.
So, England, which is it to be? Slow, steady and safe or hell for leather? It's time for Strauss to put his foot down.
Lawrence Booth writes on cricket for the Daily Mail, and you can sign up for his weekly newsletter the Top Spin here. His fourth book, What Are The Butchers For? And Other Splendid Cricket Quotations, is out now, published by A&C Black
Posted in England, Test cricket | 4 Comments »