December 3rd, 2009 by
Alan Tyers
in
Alan Tyers
,
Miscellaneous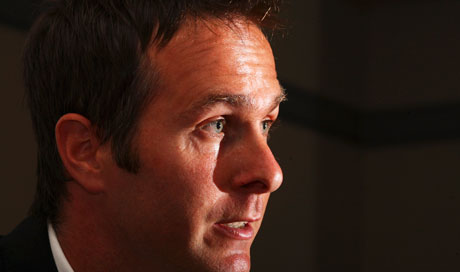 Michael Vaughan was all smiles as he signed up to be the new face of Advanced Media Profile Growth Studios.
"I first noticed that I was starting to lose my profile when I resigned from being England captain," says Vaughan.
"Previously, I could go into a restaurant and say 'Michael Vaughan would like a table' and it would happen just like that. But I started to notice that my profile was getting worryingly patchy when I lost out on a lucrative Supermarket opening opportunity in Dewsbury to Goughie.
"They said it was because I didn't have my own leotard, but I'm sure it is because I hadn't been on Celebrity Pipefitter for Children in Need, and I vowed that would never happen again.
"I tried to go back to Yorkshire and force my way back into the public eye up there but it just wasn't to be."
Vaughan realised that a series of joint television adverts featuring former rugby favourite Morris Oxford could be the solution.
"It's incredible," he smiles. "For a few months there, my profile was a massive worry. Now I'm on the Ocean Finance Channel every 16 minutes and I'm on heavy rotation during Countdown.
"I'm even in the backpages of the Mail On Sunday gardening supplement, albeit squashed in below an advert for adjustable slacks and hardcore pornography on VHS."
Vaughan would not be the first former England skipper to turn to profile-restoring promotional work.
"We all need to keep ourselves in the public eye as best we can," admits the elegant right hander. "Michael Atherton has his journalism and his range of portable soil dispensers for the garden; Nasser's got his educational DVD series Rottweiler Interviewing For Pleasure And Profit; even David Gower keeps himself out there with his handmade ergonomic espadrilles that he sells at corporate charity events."
However, while things may be good now, Vaughan does sound a warning note about how life can go downhill for a former England skip.
"You look at poor Goochie," says Vaughan. "He had everything: golf days, Question of Sport, the patented moustache trimmer and wipe-clean grill operation that he'd set up with Joe Bugner. Now he's been reduced to having to teach Ian Bell how to bat properly.
"It's a short career, and I don't want to end up like that."
By Alan Tyers
Posted in Alan Tyers, Miscellaneous |